In the early 1930's, Juan Tripp's Pan American Airways was gobbling up smaller companies & forming Pan Am subsidiaries in North America, South America & Asia. In Alaska, Pan Am absorbed Alaska-Washington Airways, Alaskan Airways & several smaller operations to form Pacific Alaska Airways in 1932-33, anticipating award of a major air mail contract for the region. Pan American did not get the large contract they were expecting though, & began selling off planes & laying off pilots, downsizing the Pacific Alaska Airways fleet in 1934. This event was to spawn a number of smaller but significant operations which would serve Alaska well in the coming years.
One of those laid-off pilots was Bob Ellis, who had come North to fly Lockheed Vega float planes for Alaska-Washington Airways in 1929. In July of 1936, he brought Waco YKS-6 NC16210 to Ketchikan, Alaska, to begin operations there as Ellis Air Transport. Bob Ellis was both a commercial pilot &, at the beginning of WWII, a Lieutenant in the U.S. Navy. In the early months after Pearl Harbor, he flew this biplane as an anti-submarine patrol bomber with a hole cut in the floor & a small depth bomb suspended above it in the cabin. The Waco was sold in 1943.
After WWII, Ellis Air Transport would merge with Alaska Coastal Airlines to form Alaska Coastal-Ellis Airlines. In 1968, Alaska Coastal-Ellis merged with Alaska Airlines.
Being the producer of the kit featured here, my first goal in beginning this build was to develop the kit's instructions. Along the way, I discovered that a good array of locating devices, especially for the wing roots, is a VERY good thing to have in a cabin biplane model of this configuration. The forward upper wing spar is molded as outlines, in triplicate, on the vac sheet, & it is there to be laminated & used, but a shorter stub spar at the rear of the wing opening proved important for test-fitting & final assembly. For the lower wing, a broad "bar spar" was cut, beveled along outboard upper trailing edges to fit in the wing, crudely cold-bent against a straight edge & glued under the cabin floor. The usual staggered tabs were used for the fuselage seams.
The up-swept wing tip edges & slightly "gulled" inboard lower wing edges (more marked at the trailing edge), required some extra attention during the parts prep phase. Leading & trailing edges were liquid-cemented without clamps or rubber bands & left to dry overnight; tips & "gull" sections closed the next day. Broad rubber bands were used at this point only to prevent clothes pins from slipping off the edges.
1 or 2 photos will show a smaller spar cut-out marked on the lower fuselage, & one head-on view shows the upper main spar & straightened wires inserted in drilled holes at spar locations to check for level. I highly recommend this process for any build of this sort; adjustments can be made while enlarging the spar holes afterward.
The wing N-struts are also outlined on the vac sheet, & were cut out & used for this build. One photo shows a replacement end spliced to one of these parts, after a drilled hole for a wire pin went astray; easier than cutting out a new one. The cowling leading edge is typically thin, so a "washer" was cut from kit scrap, beveled around it's outer edge & CA'd into place. After light touch-up with a cone of 320 sandpaper, a little 7-minute epoxy faired the remaining step.
Side windows were cut from a broken CD box; my usual procedure, as they are styrene & can be welded securely with liquid cement. The inner edges, which extend slightly past the inner surface of the fuselage, were painted black, reducing light refraction & creating an illusion of thinner windows. This trick works with injection-molded kits, too. All windows were masked with Dively's liquid mask; windshield frames were cut & primed with flat black.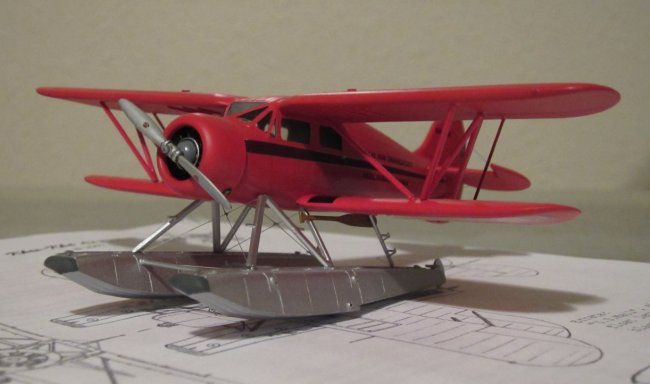 The final scheme being vermilion red, an initial coat of light gray primer was followed by a coat of Krylon "Short Cuts" flat white, without which vermilion would be hard to achieve. Before the final paint coat was applied, the floats were assembled into a pair, N-struts cut out & shaped, & all drilled, pinned & test-fit for proper "sit". Krylon Red Pepper was airbrushed on all airframe parts next & the beautiful Arctic Decals were next. I kept a bent & wrinkled sheet aside from the inventory box for this build hoping it might work, & it did. Though unpromising in appearance, the wrinkles hadn't broken the decal film & all went better than hoped. The gold edging is printed separately & was applied first. For each decal, as per my usual practice, the surface to be decalled was leveled & a solution of MicroSet & a little Elmer's Glue was brushed on first. Micro Coat Satin went on next, something I've never used before. It dried a bit glossier than expected but quickly, nice & smooth. I'll use it again.
At last, my favorite painting step: picking off the window masks. They were sealed down pretty good under 4 to 5 coats of paints & clear coat, so each mask was first started with the tip of a #11 blade at one corner, then pushed farther away with a beveled round toothpick tip & finally pulled off with tweezers; all to avoid scratching windows.
While the various coats dried on the airframe, float struts were detailed with boarding steps, float rigging fashioned from monofilament between the spreader bars (tied & CA'd), rudders attached & all airbrushed Plasti-kote "Odds 'n' Ends" Aluminum. A paddle was carved from .020" styrene, painted Pactra Flat Mustard & dry-brushed with Model Master Leather.
A disk, cut to fit the interior of the engine cowling, had been glued to the nose earlier. To get the engine centered properly in the cowling, 2 small dots of epoxy were placed to catch either side of the crank case, the engine was placed with model held in a vertical climb & the cowling was dropped over it, allowing a couple of minutes to line it up. Once the epoxy had set, CA was applied at the top & bottom of the seam. Once THAT had set, the disk was painted flat black, front & back, & the cowling was epoxied to it.
Final wing assembly, getting those wire pins all in place without scratching the paint (too much), had it's moments, but was accomplished at last. A wood block was placed on top with the model suspended between 2 others while liquid cement dried at the roots, as it appeared at first as though a bit of dihedral might have been lost along the way. CA glue was carefully added to all strut joins, very narrow epoxy fillets were added at the bottom wing roots, inboard struts installed, red paint touched up, tail planes added...& only a couple of hurdles remained...
The earlier float strut fitting didn't include the bottom wings; now it was time to "pay the piper". There are cutouts outlined in the inboard leading edge bottom corners for attachment points that apply for both the rear float struts & for the rear bracing struts of the standard landing gear, but these needed to be extended farther aft to fit the N-struts already prepared. With drill, ball burr & knife (& some trepidation) this was finally accomplished, rear locating holes drilled &, after several false starts, the airframe finally sat on the floats. Wing tips were leveled on play blocks, a thin stretched-sprue applicator was selected & CA was touched to each strut join. More monofilament rigging followed, more touch-up, mostly aluminum this time, & all that remained was to scrape a couple bare patches & install the paddle. I wasn't sure how that would go, but shimming it in place with a popsicle stick & flat toothpick while liquid cement was applied worked fine.
Reference Sources:
"What...No Landing Field?" by R. E. "Bob" Ellis

"Alaskan Wings; Aviation In Southeast Alaska, 1935-1946" by Jim Ruotsala

Waco factory "owner's card" for NC16210 from The National Waco Club

Photos in the collection of the Alaska Aviation Heritage Museum, Anchorage, Alaska

Photos posted online by the University of Alaska, as "Alaska's Digital Archives"
Decal graphics by Mika Jernfors, Arctic Decals, Finland
The vac & resin Waco YKS-6 "Ellis Air Transport" package, with decals & floats, is available from Khee-Kha Art Products until the decals are gone:
www.mtaonline.net/~zdk
Lars Opland
Click on images below to see larger images