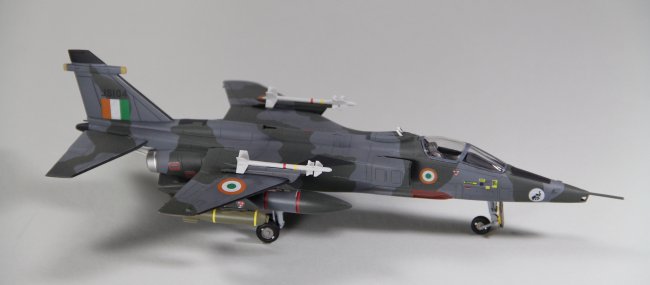 The Hasegawa kit was easy to build and the model represents the Jaguar IS of the Indian Air Force which is tasked with strike/ground attack missions. This particular aircraft is part of the No.5 Squadron, the "Tuskers", based in Ambala. The kit was basically built out of the box with Mike Grant decals that went on perfectly. I referenced my collection of photos (taken while I lived in Bangalore….where the Jaguars were built) and Bharath Rakshak.com.
Acrylics were airbrushed with the normal masking tape used to mark the intricate patterns. The model also received a flat overcoat after the decals were set.
It was a fun build overall and compliments the Naval Strike and Trainer versions that are sitting pretty in my display cabinet…….Now, itching to start the DARIN II upgraded version of the Jaguar in the 48thscale!!
Leonard Prakasam