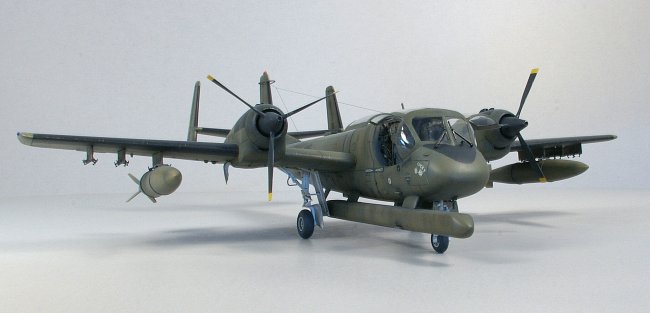 A one-of-a-kind design, the OV-1 was the first turboprop plane to enter US Army service. The OV-1 was built as a joint US Army and Marine Corps project for a modern battlefield surveillance aircraft. The Marine Corps pulled out of the project before their prototype could be built, but the US Army began placing its orders late in 1959 for the OV-1A and OV-1B. The -1A and -1B differed in that the -1B variant had an 18 foot SLAR (side-looking airborne radar) mounted under the fuselage and offset to the right. This allowed the OV-1B to operate in any weather, day or night. The OV-1B also had an internal camera with in-flight processor and an increased wingspan to cope with the extra equipment. While the plane was slow, its huge triple finned tail and engines mounted on top of the wings gave the Mohawk great maneuverability. To protect against small arms fire from the battlefields over which it kept a watchful eye, the cockpit was armored with an aluminum-alloy floor, flak curtains and bullet-resistant windows (www.warbirdalley.com).
The OV-1A and OV-1B operated extensively throughout Vietnam primarily as forward air controllers (FAC) directing air strikes for close air support (CAS) aircraft on Viet Cong and NVA targets. The rugged jungle terrain of Southeast Asia readily hid enemy troop movements, thus it was the mission of the FACs to ensure that the CAS attacks hit the intended targets and not friendly troops.
Roden's 1/48 OV-1B kit is well engineered needing only minimal clean-up and filler to produce a great Mohawk. Though the OV-1Bs were factory equipped with only two pylons, photographic evidence indicates many OV-1Bs were field modified with an additional two or four hard points. The additional pylons were used to carry other l photographic/reconnaissance equipment, rocket pods or machine gun pods. I opted to add four additional pylons, though left them empty. To enhance the kit, I used True Detail's OV-1 resin cockpit and Eduard's masks to ease painting the large bubble canopy.
My kit represents an OV-1B Bu. No. 59-2673 of the 131st Surveillance Airplane Company based in Phu Bai, South Vietnam in 1967.
I pre-shaded the panel lines with flat black and used various tints and shades of Model Master and Tamiya acrylic Olive Drab, Olive Drab ANA, Khaki Green and Flat Yellow to break-up the otherwise monochromatic finish of the Mohawk. Weathering was achieved will oils (pin washes, streaking and filters), pastels and silver pencil.
This is a great kit of one of the 'slow' US FACS used in the Vietnam war.
Eric Hargett