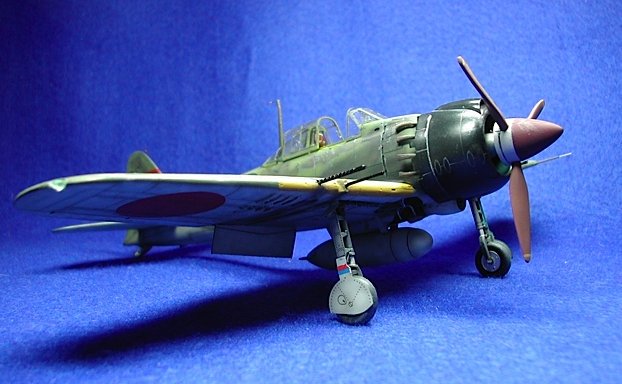 Invasion of Japan - Operation Olympic 1945

ď it is the morning of 1st November 1945, and Warrant Officer Takeo Tanimizu boards his brand-new A6M8 Zero fighter and flies off from his Kyushu Airfield because he heard that the long-awaited American invasion of Japan has started off Southern Kyushu. His aircraft is just part of the escort for 12,700 Aircraft which have been kept secretly hidden, fueled and safe from air attack all over Japan, for just this massive Kamikaze counter stroke against the huge American Invasion Fleet !! ď

History of the A6M8 Variant
Most modelers will be aware of the history of the earlier Zero versions, but this very last wartime one is less well known, I only had read this last version whilst reading the Martin Caidin Paperback Book called Zero Fighter , this was Published in 1970 by Purnellís [ Weapons Book Number 9 ] If you have never read any books from the Series - also published by Ballantine in early 1970's, under History of Violent Century then I highly recommend you do ,as they were all really well written and illustrated.
The Zero Type 54/64 was the product of an effort to address the performance problems of the Zero Type 52 Hei (made overweight by repeated modifications) by replacing the Type 52's Sakae 21 engine with the more powerful Mitsubishi Kinsei Model 62. This resulted in an extensively modified cowling and nose for the aircraft. The carburator intake was much larger, a long duct like that on the Nakajima B6N and Ki.100 was added, and a large spinner was mounted.
Armament was unchanged from the type 52 Hei (2 X 20mm cannon and 2 X 13mm machine guns) with the fuselage guns being deleted to save weight .
In addition, the Type 64 was modified to carry two 150 litre drop tanks on either wing in order to permit the mounting of a 500kg bomb on the underside of the fuselage. Two prototypes were completed in 1945 and production was ordered following flight testing, but the war ended before any production began.
Warrant Officer Takeo Tanimizu
Warrant Officer Takeo Tanimizu entered flight training in 1941 and graduated as fighter pilot in March, 1942. He was fortunate to be among the last Japanese fighter pilots to receive the benefit of pre-war quality training.
He was assigned to the carrier Shokaku in 1943 and finally entered combat at Rabaul on November 2, 1943, when the Shokaku air group was transferred from Truk to that Rabaul to increase the air defenses in the face of increased Allied attacks.
By the time the bulk of the surviving Japanese air units were evacuated from Rabaul in February 1944, Tanimizu was a leading ace. In March, he became an instruction with the Tainan Air Group in Japan.
That summer he was transferred to Formosa; on the night of August 31, 1944, he engaged 11 B.24s attacking Kaohsiung (then called Takao). He shot down one B.24 which exploded, and damaged another so badly that it later crashed in the mountains of southwestern China. The remains of this airplane were not discovered until October 1996.
After recovering from wounds received when he was shot down over Amoy on November 3, 1944, Tanimizu was assigned to the 203rd Naval Air Group in Japan, where he chose to fly the A6M5c because of its heavier armament.
Flying his Model 52c, he shot down two Corsairs of VFB.83 on March 10th 1945. On June 10, he engaged in a fight with P.47Ns over Kyushu, in which he was badly shot up after damaging two of the enemy, and had to make a forced landing. During this period of service with the 203rd Naval Air Group , he began formally marking his Zero with victory symbols, to build up morale among the younger, poorly-trained pilots for whom he was responsible.
When the surrender was announced, Tanimizu was among those IJN pilots who refused the order; he spent five days trying to find and shoot down enemy aircraft before finally surrendering to the inevitable. His final wartime score was 32 victories.
IJN Warrant Officer Takeo Tanimizu passed away on March 12, 2008 .
History of Kits for the A6M8 Zero
Hasegawa released a Zero special 65th anniversary set in the mid-1990ís which included some interesting variants of Japan's most famous WW2 fighter.
Unfortunately the Hasegawa ( Hasegawa Reference SP206 ) A6M8 kit was very expensive and also pretty hard to find as it sold out almost immediately.

I have built the only previous available model of the A6M8 in 1/48 Scale by Hasegawa ( it is kit number SP247 ) which had an extra bag with the resin parts made by Jaguar of the USA .This had the resin engine cowling and spinner and propellor , with an extra bomb for the underside .
This kit is best avoided as the fit of the resin parts are pretty poor , especially the cowling , which took a great deal of effort of sanding and grinding to make it fit to the rest of the Plastic fuselage , but even then it just never looked Ď just right Ď - I was glad to sell this completed model on E-Bay , to a buyer .
All through its development the Zero gained more weight through added armour and heavier armament. It never got a bigger engine though , which is one thing that I still have never understood , as the Japanese Air Ministry were so stupid , not to allow this to happen till it was too late in the war .

The New A6M8 kit
One of them is probably the ultimate version of the Zero, the A6M8.

The new kit is packed within a standard cardboard box with and is composed of no less than 8 sprues made of grey styrene and one sprue for the transparent parts. Of course instruction and decal sheets are also included .

This is basically an A6M5 with a new larger engine , the Cowling is much bigger, and the finished model surely looks like a Zero on steroids. The new engine cowling spoils the thoroughbred lines of the previous versions, and makes the aircraft look a lot more potent and menacing. The thing with the older Hasegawa model ( SP247 ) was that the old engine was still the same as in the A6M5 kit and it looked decidedly too small in the bigger cowling.

Although the larger spinner covers up most of the front, I went for the aftermarket Resin Kinsei engine, supplied by Vector , to replace the single kit part . This is well worth the effort , and looks great .

I also added the following aftermarket items:
Moskit Exhausts ( made from Hollow Metal )

Air Master 13mm Machine Guns and 20 mm Cannon Barrels

Zotz Aftermarket Decals

Eduard Big-Ed Photo-etch ( although designed for the Mitsubishi A6M5 Zero , it fitís the A6M8 as the cockpit was the same apart from no cockpit guns in the A6M8
This set also has landing flaps to allow me to drop the flaps and are far more detailed than the kit supplied plastic .
The Moskit Zero exhausts are very well done.

They are also individually numbered and the set comes with a guide to show exactly where each one will fit.

It is for the convoluted and 'non-round' nature of exhausts like this that makes Moskit's offerings so valuable.

Drilling out kit exhaust like this would be time consuming at best and in many cases, impossible.

If you demand perfection on your kits, then you should be using these on your next build. These are as always, a super set of exhausts that will definitely look much better than the plastic ones that came with the kit.

For anyone who has built a new generation 1/48 Hasegawa A6M5, there are no surprises here. Detail is above average but not exceptional, you need to watch how you assemble the wing/fuselage join ( I needed filler here as you can see ) plus some small parts were fiddly to work with. Additional detail on this model includes brake lines, a scale thickness splitter added to the oil cooler intake below the cowl, plus a photo etched harness from Eduard. I also discarded the kit supplied cannon and gunsight, and went with replacement parts.

I used Tamiya acrylics and Gunze lacquer paints for this project. This Zero was built by Mitsubishi so I went with the colours most often found on Zero relics today.

The cockpit colour is FS 34258, and for this I used a mix of Tamiya XF-71, 2, and 3.

Gunze Mr. Color #15 is a great match for dark green FS 24077, and for the lower surfaces I used a mix of Tamiya XF-20 and 49 to replicate FS 24201.

I decided to have a faded brown camouflage scheme over the green and used the scheme that the Ki.61ís used in New Guinea - this was due to the fact I was building a Ď what if - aircraft Ď .

Cloth surfaces on the lower side of the wings and elevators were sprayed with a mix of Tamiya XF-25 and 2, which is close to FS 16314. The cowl is Mr. Color #125, prop Mr. Color #131, and the area under the windshield/behind the cockpit is Tamiya XF-69.

Wing leading edge IFF stripes are a mix of Tamiya yellow and orange and finally, the flap and gear door interiors are my personal mix of Aotake, Tamiya clear green and blue with a touch of silver for some opacity.

Clear coat is the Gunze series of lacquer clear coats, which I mixed for different sheens on the airframe.

Markings came from both the kit decal sheet, as well as the wonderful sheet from Zotz .

A subtle oil wash, and airbrushing some ground colour up onto the gear doors is about the extent of weathering on this model.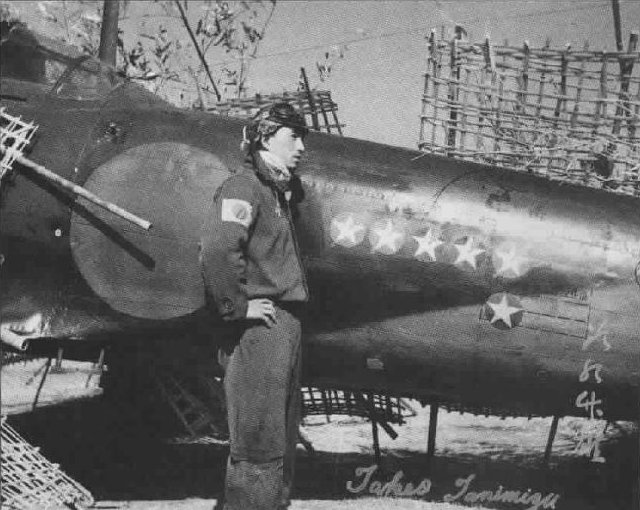 While there are almost countless references on the Zero itself, data on the A6M8 is scarce.

I recommend the Aero-Detail book on the A6M Zero , Model Art #510 on IJN fighters, as well as the various Famous Aircraft of the World books.

Finally, a search of the FAQ at J-aircraft.com will answer almost any question on the Zero, be it on colour, source of manufacture, type identification, etc.

This project took me a month from start to finish .

The 1/48 Hasegawa Zero kits are a fine way for somebody interested in WWII Japanese aircraft to get their feet wet, and build into fine replicas. Only problem is, which one to build next?
David Walker