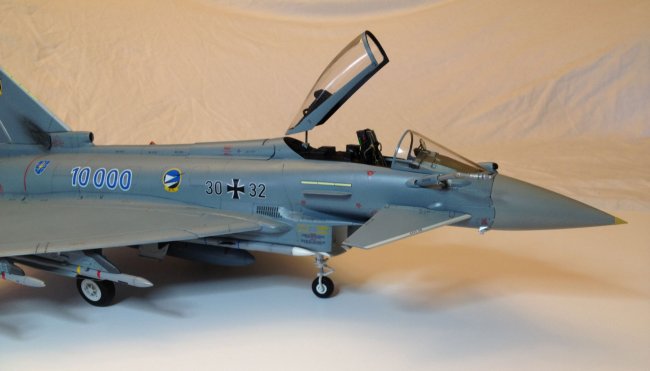 This is my latest project and this is mostly an OOB build with some cables added to the wheel assemblies and scratch build seatbelts and buckles. My biggest challenge with this kit was trying to decide what colors to use since the reference chart included was not very helpful. Somewhere along the research I came up to someone else's deduction for this matter. "Paint it gray and you can't go wrong" (Music to my ears). I used MM's paints, FS 35237 for the overall fuselage (A on the instructions), FS 36314 for the nose (Q on the instructions), and Light Gray for some of the smaller surfaces. I chose to build the Typhoon from the German Air Force, Jagdeschwader 74 "Molders," Neuburg, 2009, with the Special Markings included on the decal sheet.
I had some fitting issues with the kit, especially the wings, but I was able to take care of the issues rather easily. I opened the grills on the side of the intake walls, and although it was a tedious process, it was great to see the enhancement to the kit. Very little putty was used during the construction of this kit (except with the wing joints).
As with most of my models, I gave this huge war bird a full weapons payload and a center external fuel tank. I gave it a light weathering job with the Pro-Modelers weathering product and pastels for the stains on the sides of the airplane. I sealed the paint and weathering with Testor's semi-gloss overcoat. I am very pleased with the outcome, and I hope you enjoy the photos.
Victor De Jesus