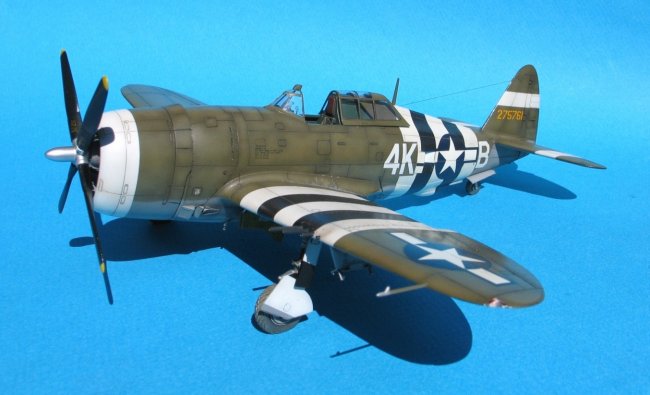 Here is the new member of my "Tamiya Thunderbolt" collection in 1/48 scale. This is 1/48 Tamiya P-47D15 finished in the markings of 404th Fighter group, 9th US Air Force in England during June 1944.

This project brings back memories of my childhood days in the 70s. I started modelling in 1/72 scale in those days with my father's encouragement. This Thunderbolt was one of my first aircraft models; I built it by using a vintage 1/72 Matchbox kit in the mid-70s. The box art of Matchbox kit is still very warm and attractive for me. Yeah may be this is just the warmness of the nostalgia. But I liked it.
Before starting to Tamiya kit I have checked vintage Matchbox kits on Ebay. I bought several old but in good condition kits issued in the 70s in this brand including this P-47 Thunderbolt. It Is used as reference on my project.

Tamiya kit in 1/48 scale was already in my stock as usual. Then I started to built it by painting the cockpit components to well known green color.

The cockpit modified by Eduard PE instrument panel, seat belts and Tally Ho gunsight.
The painting was done with Gunze Sangyo acrylics. Lower surfaces are painted to neutral grey and the upper surfaces to olive drab. Full D-day bands are painted by using Tamiya acrylics.

National insignias are from my spare box. Most of the stencils and code numbers are from different decal sets.

The last modification is Ultracast 48123 P-47 covered diamond tread wheels.

After some weathering and a matt coat from Gunze Sangyo it is finished.

Yet another P-47 but the result is more pleasurable than others in my opinion.

Happy modelling
Tolga ULGUR
Click on images below to see larger images