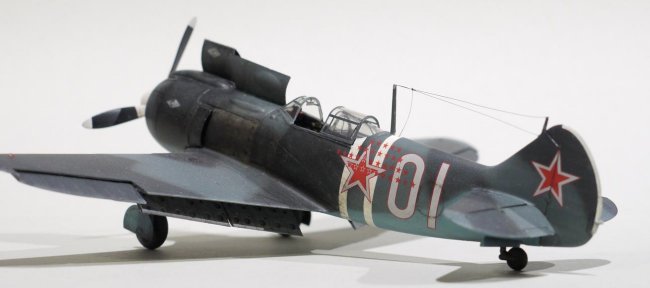 Here is my attempt for Russian WWII fighter Lavochkin La-5FN flown by Vitaly Popkov.
La-5FN belongs to Lavochkin's fighters family that roots originate before the outbreak of WWII, with LaGG-1. You can find more info about plane at http://en.wikipedia.org/wiki/Lavochkin_La-5#Specifications_.28Lavochkin_La-5FN.29
I have this plane in the scale 1:72 in overall grey camouflage with green & brown blotches, with nice tiger head and guard badge on the engine cowling, built some 20+ years ago. Yes, time is running...
I found this kit in the 1:48 scale from ZVEZDA production at the local Model kit show, price less than 15USD. I decided to buy it and build bigger "brother" to my old kit, some 2 years ago.
Then I purchased aftermarket parts, total price almost triple of the kit price itself:
Construction.
ZVEZDA kit provides very nice engine and internal frame construction. So in the meantime, I started with the cockpit, internal framing, engine and open cowling and tried to fix it together. It was almost impossible to put EDUARD PE part on the engine and install the cowling partially closed with the correct geometry. It required a lot of trying, sanding and again and again. I asked myself many times why I decided to make open engine and flaps. To build everything closed could be much faster. I made some photos of the very early construction steps. However, as mentioned, it was 2 years ago, and photos were lost in time.

Right camouflage. The discussion on the www.sovietwarplanes.com forum continued so I had enough time. Most important info from that forum was that there were no green&brown blotches, no tiger head, no guard badge on the engine cowling and different marking colors. I picked up all info from that forum, considered pros and cons of the individual opinions and statements and decided for my interpretation of Popkov's La-5FN.

Right colors. In the meantime I found another interesting forum http://sovietwarplanes.com/board/index.php?topic=1151.0 about the right shade of AMT11 and AMT12 camouflage colors. Again, everything was different. Basically, forget light shades and follow the dark ones. And also this discussion continued (and still continues) with the most important info that the AKAN colors provide the most authentic AMT11/AMT12 grey shades.
Painting.
I bought acrylic AKAN AMT11, AMT12 grey and AMT7 blue. This is my first attempt with acrylics. They dried much faster in my airbrush nozzle than enamels, so it was real challenge for me. I really appreciated EDUARD Mask. It fits to canopy very good and it speeds up canopy frames painting significantly. One gloss coat and applying AML Decals. They went very well, thin enough but not translucent, no camouflage color show through them. Another coat - matt acrylic.

Weathering.
I tried for the first time wash filters (very diluted Humbrol and Revell enamels, basically a "dirty water"), then weathering with artistic oil colors and finally, again the first attempt - with MIG pigments.

Finally, after 2 years, antenna wire (my daughter's painted hair) is installed and the kit is done.

Find bellow the kit airbrushed with the AKAN colors AMT11 and AMT12. Next picture shows the kit after applying the first filter – a bit overdone, another darker filters and artistic oil colors wash needed. Following pictures show the finished kit.

At a very end I attached a picture of my La-7 kit built a couple of years ago http://www.arcair.com/Fea1/401-500/Fea450_LA-7_Sekula/00.shtm just for comparison what mean "light" and "dark" grey camouflage colors. Grey shades were mixed according to the color pictures in the then available books and magazines. The difference between light, "traditional" grey shades and the new darker grey shades is a really significant.

I hope you like it.

Best regards,
Michal