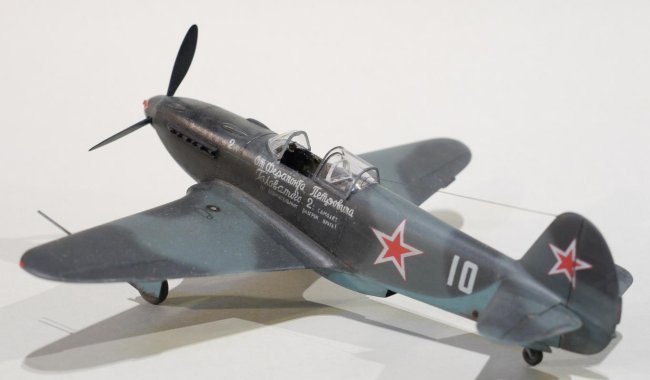 Here is my attempt for Russian WWII fighter Yakovlev Yak-3 flown by Major Boris. N. Yeryomin (or Jeryomin), commander of the 31st GIAP, in 1944 awarded by the Gold Star of the hero of the Soviet Union.

BRIEF HISTORY
The kit represents the second aircraft Yeryomin received from the kolchoz farmer. The dedication inscriptions 'Ot Feraponta Petrovicha Golavatovo vtaroy samolyot na akanchatyelniy razgrom vraga' (From Ferapont Petrovich Golovatyi, 2nd machine for the final destruction of the enemy) changed over the course of service, and by the end of the war, they were different on both sides of the fuselage from those when initially delivered, and small victory stars were added to denote kills by B. N. Yeryomin. He got total 23 kills.

The origins of the Yak-3 went back to 1941 when the I-30 prototype was offered along with the I-26 as an alternative design to the Yak-1. The I-30 was of all-metal construction. Although there were plans to put the Yak-3 into production, the scarcity of aviation aluminum and the pressure of the Nazi invasion led to work on the first Yak-3 being abandoned in late fall 1941.

In 1943, Yakovlev designed the Yak-1M which was a smaller and lighter version of the Yak-1, with the plywood instead of fabric covering of the rear fuselage, mastless radio antenna, reflector gunsight and improved armor and engine cooling. The new aircraft was recommended to completely replace the Yak-1 and Yak-7 with only the Yak-9 retained in production. The new fighter, designated the Yak-3 entered service in 1944, later than the Yak-9.

You can find more info about Yak-3 plane at http://en.wikipedia.org/wiki/Yak-3

THE KIT
This is the EDUARD Yak-3 ProfiPACK in 1:48 scale

The kit includes PE parts for cockpit and some exterior details and mask for canopy painting. I used decal provided with the kit. No aftermarket products were used.
CONSTRUCTION
I build this kit in parallel with ZVEZDA La-5FN. In this comparison the EDUARD kit was much easier and faster build. I did not do any corrections, kit is build OOB.

While looking for the right camo for my Popkov's La-5FN I found interesting forum http://sovietwarplanes.com/board/index.php?topic=1151.0 about the right shade of AMT11 and AMT12 camouflage colors with the most important info that:
AKAN colors provide the most authentic AMT11/AMT12 grey shades,

camoflage patterns should follow NKAP scheme (quite straight demarcation line between grey shades). However while in reality sprayed freehand demarcation line are a bit curved.

PAINTING & WEATHERING.
I used acrylic AKAN AMT11, AMT12 grey and AMT7 blue diluted by TAMIYA Acrylic Paint X-20A Thinner without any retarder. They dried faster in my airbrush nozzle than enamels, so it was real challenge for me. I really appreciated EDUARD Mask. It fits to canopy very good and it speeds up canopy frames painting significantly. One gloss coat and applying decals. They went very well, thin enough but not translucent, no camo color show through them. Another coat - matt acrylic.

Wash filters (very diluted Humbrol and Revell enamels, basically a "dirty wather") applied, then weathered with artistic oil colors and finally with MIG pigments. All handbrushed.

I hope you like it.

Best regards,
Michal
Click on images below to see larger images