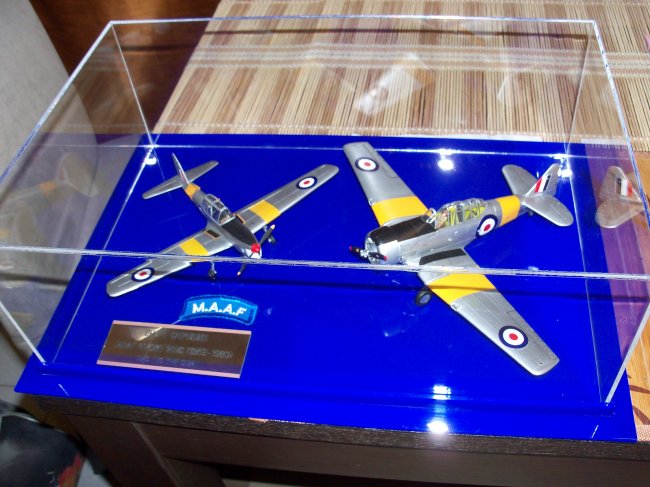 Hi Everyone,
Greetings from tropical and humid Singapore

My build of these two piston engine trainer aircraft is a trip down memory lane to the birth of the Singapore Air Force when the Malayan Auxiliary Air Force (MAAF) was formed by the RAF Far East Air Forces after the Second World War. All of these aircraft were based in RAF Seletar in Northern Singapore from the 1950s - 60s, where they are used to train both RAF and the very first Singapore (local) pilots, engineers and technicians who readily volunteered to serve in the MAAF. You can read more about the history of the MAAF at the following URL: http://en.wikipedia.org/wiki/MAAF_%28Singapore_Wing%29
The AT-6 Monogram kit is of fine quality and accurately reproduced with all the rivets and lines that represent a good old Made in USA kit of the 80s. The cockpit was fairly detailed with a well modeled pilot to go along with it. The AeroClub kit, on the other hand, was rather basic and had sparse details. Nevertheless, it is an accurate and only available 48th scale representation of the ubiquitous RAF basic trainer. Building both kits were fairly straightforward but had lots of putty filling time with the AeroClub kit due to its ill fitting. :-( Both planes were sprayed with regular Gunze Silver and this time, I tried my hand on Tamiya's new Panel Line Accent Color (Black) to highlight the scribed lines, engine detail on both models and I can say it worked fast and produced realistic panel lines with little mess on both models.
As I did not want any yellowing to occur on the RAF roundels in future and not to spoil the silver finishing after spraying the Silver coat, I had the white circles sprayed with a circle template on decal paper and applied it to the kit. This had to be done twice to ensure the white circles stood out really white from a darker silver background. The RAF fin flash and the yellow trainer band was also spray painted on.
Both planes were placed in a custom made display case and presented as a birthday present for my dad, Mr. Y.C. Teo, who served in the MAAF as a technician servicing the Chipmunk T10 and had memories of watching the MAAF Harvards flying over Seletar in the mid 50s. I am happy to say that he had a big smile on his face when I presented it to him..:-)

Hope you enjoy my artwork and the pics!

Best Regards,
David C S Teo
Click on images below to see larger images