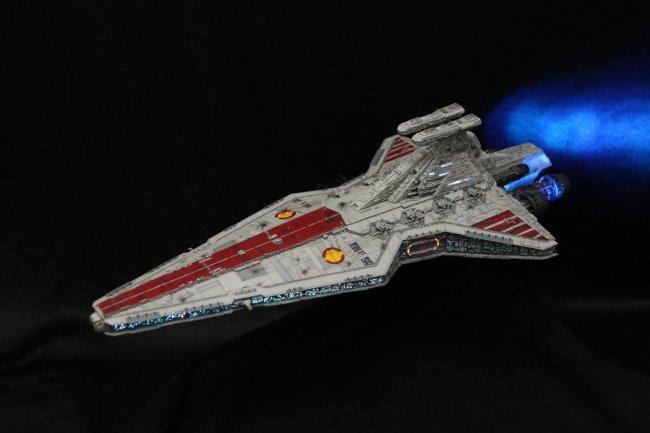 Hi all. This is my version of Revell's Venator Republic Star Destroyer/Cruiser from SW Episode 3. I spent just over 15 months detailing this kit. The base kit is extremely low on surface detail – or any detail for that matter and cried out for some added goodness. This was my first ever crack at super detailing anything so I'm pretty happy with how it's turned out

I churned through every sized piece of styrene that Evergreen make and then some. There are 46 LED's inside and about 30 feet of fibre optic cable and 16 #80 carbide drill bits were used to make the lighting system operable. I lost count of how many hours I've spent on it – although the wife hasn't. All in all, it's a good kit fit-wise, but it was a real challenge to get the two hull plates to join together after adding all the details to the side walls. I had to have replacement side hanger doors cast for me as the originals met with a fiery end (think Bad Jelly the Witch: "I'm melting, I'm melting….")

Would I ever do this again? Probably not, but I do have other detailing projects in mind – especially now that I have the detailing bug.
The paint work isn't the greatest – it's most certainly not my strong point. However, it does look sort of like what it's supposed to.
There is a full length WIP thread here if you want to check out more : http://www.arcforums.com/forums/air/index.php?showtopic=219632

Thanks for stopping by!
Simon Westall
Simon WestallClick on images below to see larger images