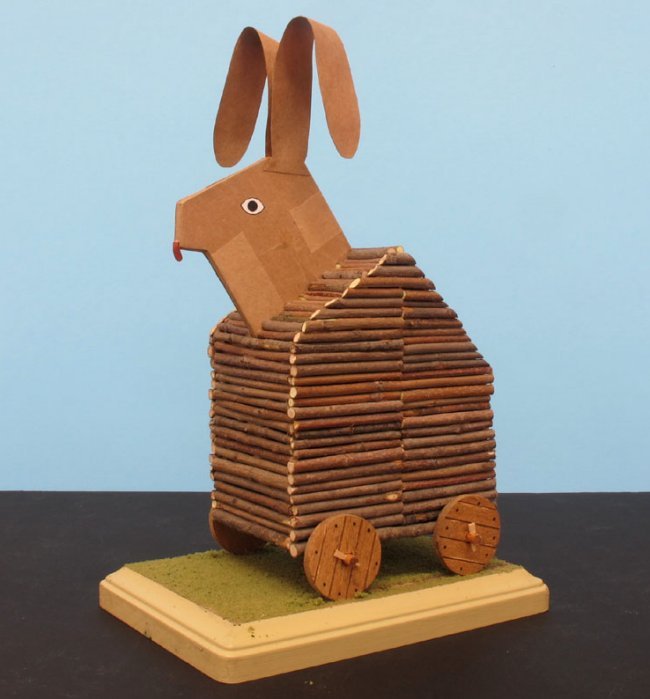 Monty Python fans have already recognized this model---- but for those that aren't big Python fans, here's an explanation…..
Each year, our club picks a theme for a Group Build. The topic is picked early in the year, and the completed models are brought in to the December meeting. In 2012, our theme was "As Seen on TV"-- any subject that appeared in a TV show or Movie.
I chose the famous wooden rabbit from the movie Monty Python and the Holy Grail. The model is approximately 1/35 scale, and scratch built. I found plans for a 1/72 paper model online. I used it as a guide for the basic dimensions, basically doubling it in size to get to approximately 1/35 scale.
I started with a frame made of balsa. I then covered the frame with a variety of "logs"—sticks collected from the woods around my home. I was amazed at how difficult it was to find straight sticks!
The wheels are made from two layers of sheet balsa. The inner layer is a disk, while the outer layer is made from strips. The bolt heads on the wheels are drops of black craft paint.
I wasn't sure what the head was made of—in the movie, it looks like leather, burlap, or maybe even heavy brown paper. I found a couple of different brown paper bags with different shapes, and applied them to a basic balsa shape. For the ears, I laminated two pieces of paper with some white glue. I bent them in the drooped shape, and then let them dry. Once dry, they held their shape, and were easy to trim with scissors.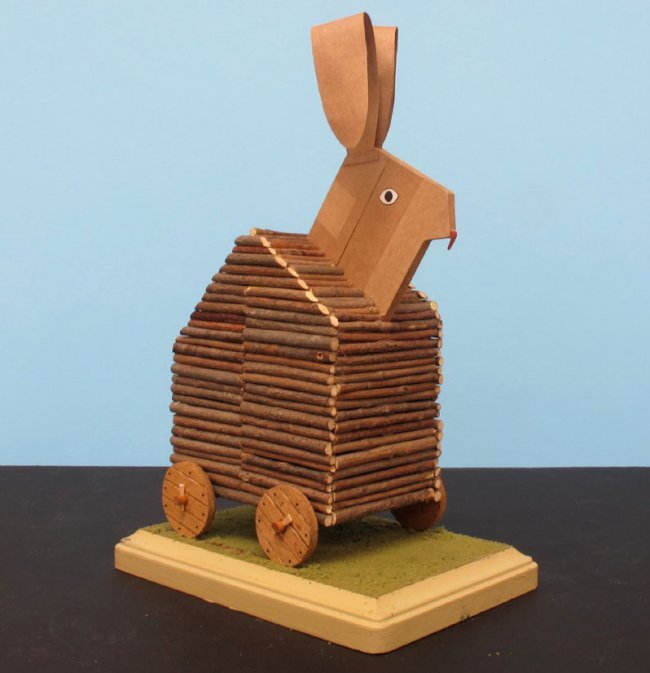 The final touch is the toungue, made from a piece of paper, painted the appropriate color. You'll find a lot of pictures of toys and reproductions of the Rabbit, with "sharp pointy teeth" . But the toothsome rabbit is from another part of the movie-- the one in the castle scene clearly has a tongue and not teeth sticking out!
Researching the Rabbit was fun, and building it was even more so! I loved that the most common question I got after I first posted pictures of it was "What's next, a giant wooden badger?

Bill Michaels
IPMS Patriot Chapter
Pictures courtesy of Pip Moss, IPMS Patriot Chapter Newsletter Editor