This kit should represent a plane – early type LaGG-3 - flown by Mayor Leonid Galchenko during the winter 1941/42, when 145 IAP was moved from the front and reorganized into 609 IAP at Kandalaksha. This unit was equipped with I-16, LaGG-3 and MiG-3s. Major Galchenko was made commander of this new unit.

You can find full discussion about this Galchenko's winter camouflage at http://sovietwarplanes.com/board/index.php?topic=1445.0 Here are some basic points.

Collection of b/w photos (screenshots from document video found on Youtube) shows Galchenko's plane from either winter 1941/42 (plane right side) or winter 1942/43 (plane left side). Camouflage from both winters shows similar pattern – no big solid areas over upper surface but smaller blotches with sharp edges.
I decided to combined them into one "universal" camouflage from winter 1941/42. Firstly I made a new template. I "painted" basic winter camouflage on the profile from the http://www.mig3.sovietwarplanes.com/lagg3/galachenko/galachenko.html showing plane in the summer 1942 camouflage. White patterns on the template are painted according to the photos, while yellow patterns are only estimated because they are either not visible (right wing) or there is light reflection (left wing). White areas seems to be painted by hand brush, not airbrushed.

I airbushed acrylics AKAN AII Green and AKAN AII Blue for basic camouflage and then freehand airbrushed very diluted black (resulting to something from black/green to black) over upper surface to create dark areas according to the profile. The gloss coat and the decals from AML Decals were applied on the kit. Then another coat of acrylic gloss followed as the general look of the plane on b/w photos was quite glossy. AKAN A-14 "steel/grey" is used for interior, although it should be silver (realized too late).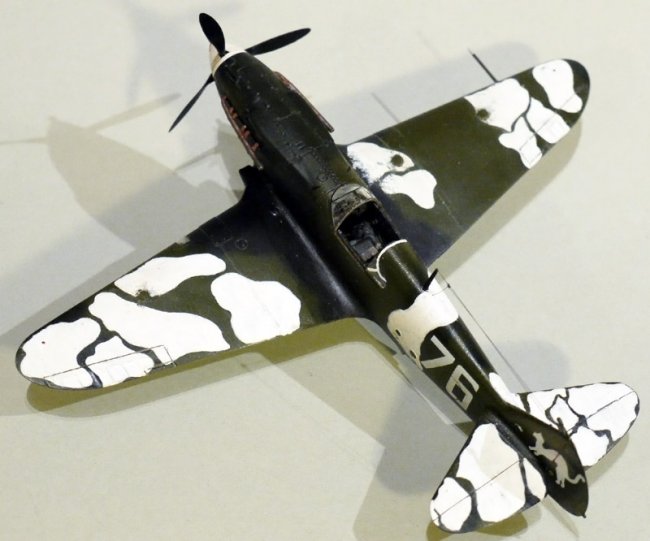 White is handbrushed Revell Matt White Enamel. I broke white areas on the upper wings from template to even smaller blotches on the real kit. After 2 days I sanded them with 1000/2000 sand paper to get smooth and not so homogeneous surface - as visible on the photos.

Tamiya Panel Line Accent Color (different mixes of black/brown and grey) and MIG pigments were used for weathering.
Eduard PE parts were used for interior and exterior details and Eduard Mask for painting canopy.

Happy modeling,
66misos