The subject of my build is Mosquito FB Mk VI, RS 625, NE-D of No 143 Sqn was commissioned to Special Costal Duties and based at Banff, Scotland back in April 1945. It wears a Scheme of Extra Dark Sea Grey with Sky undersides. National markings are Red, White, Blue and Yellow. The spinners are Yellow with Medium Sea Grey bands, the 100 gall slipper tanks are Aluminium and has four double tiered rockets under each wing.

I started off with Revell's Mosquito Mk IV, in 1/32 scale and converted it to a Mk VI. Resin parts used were the FB nose, the starboard engine, rockets, slipper tanks and a set of wheels. As I could not acquire a new resin cockpit, I decided to scratch build the whole thing consisting of instruments, seats, wireless equipment down to a new canopy with seperate framework. Having done this, I set about opening up the bottom and scratch building the bomb bay and the four 20mm Cannon. The back access hatch was also opened revealing the control cables to the rudder and alerons. The undercarriage has been modified and the resin wheels have had their hub removed and replaced. Another headache was the setting up of the starboard Merlin engine complete with all linkages and tubing to the wing radiators and oil coolers, this in turn being also compleatly scratch built. The final items fitted were the resin slipper tanks and rockets.
All these details can be seen in the photos that follow.
The RAF Codes have been hand painted as I did not find any yellow lined black ones in 1/32 scale.

After having painted the model with Model Master, Humbrol and Alclad2 paints, I set about constructing a base for my model. This was a straight forward wooden job depicting a section of unused runway.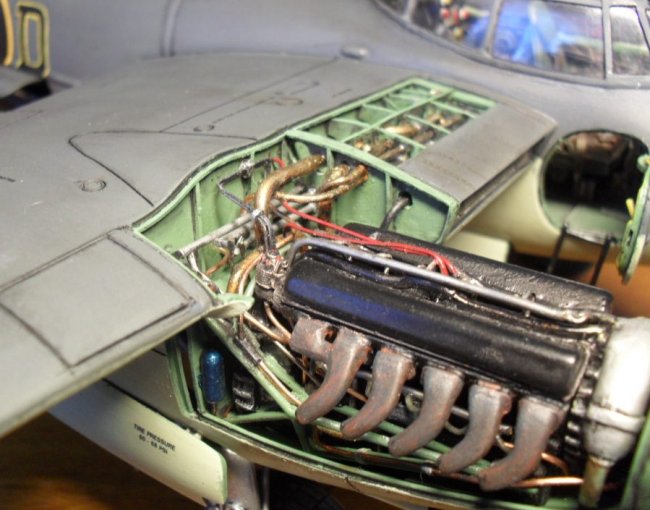 A fantastic build which I really enjoyed doing. Hope you like it.
Cyril Worley
Click on images below to see larger images