MiG-25PD Iraqi Air Force "25211"
A Foxbat, a legend.
I think there's no more need to introduce this aircraft. It is called "Foxbat" in West, "Massandra" "Spirt-Voz" or "Deli"(Liquor store) by Soviet crews, while I just call it "the BEAST".
It is exactly the representative aircraft of Soviet Union in Cold War.
Most people know this beast from the Belenko's defection, also some knows the reconnaissance type's activity in Egypt, but the story here to be told is still quite unknown to most.
Thanks to Tom Cooper and ACIG team, it has been proved that on the first night of Operation Desert Storm, January 17, 1991, a US NAVY F/A-18C from VFA-81, USS Saratoga, piloted by Lt. Michael Scott Speicher was shot down by an Iraqi Air Force("IrAF" as below) MiG-25PD.
And via Tom's research and resources, it has been proved that the Foxbat is coded "25211" and the pilot of it, was Lt. Zuhair Dawood.
And this Hornet is the only aircraft shot down by any enemy's weapon ever since Cold War ended.
While feeling extreme sorrow for Lt. Speicher, I still admire the BEAST's ability and the courage of Lt. Dawood.
And on the 20th anniversary of Gulf War I, I decided to make exactly this "Hornet Killer".

About the kit
There are totally 3 kinds of 1/72 MiG-25 kits on the market nowadays.
The oldest Hasegawa kit was tooled just after Belenko's defection to Japan in 1976, and at the time it was a great kit considering the limited resources which were mainly from several Japanese news agencies' photos of Belenko's plane.
Then in 2006, the Ukrainian brand Condor made a series of totally new tooled MiG-25 family, including MiG-25P, PD, PU and RU. The shape is very accurate indeed though it suffers from the soft details and panel lines.
And one year later, another Ukrainian maker ICM released a 1/72 MiG-25PD with very crisp panel lines and rivets, and the breakdown of parts is quite similar with Condor ones but a bit more complicated in order to save the details.
So if you are going to build an interception version of MiG-25, ICM would be your best choice. The 2 seater trainer is only released by Condor, also reboxed by Zvezda. And if you are a great fan of the reconnaissance type, I'm afraid you will have to buy some aftermarket resin conversion set from Pavla Models, ARMORY or Click2detail.
By the way, the 1/48 Revell kit is the only game in the scale but it's quite inaccurate in tons of places due to the early release date, so still ICM keeps the best in all scales.

References for Iraqi Foxbat
Frankly, the references for Iraqi MiG-25s are very limited, and almost close to none.
Fortunately, my friends on ARC forum, especially Raymond, gave my many ideas about the details of the Foxbat with many photos of destroyed Iraqi MiG-25's wreckages.
Also thanks to Tom Cooper, the very famous air combat researcher, his book Iraqi Fighters 1953-2003: Camouflage and Markings and the article in International Air Power Vol. 26 showed me lots of details about the Foxbat and the story happening that night.
Generally speaking, Iraqi MiG-25PDs were painted in the standard Soviet light ghost grey scheme, but several updates were done during their life in IrAF.
First, most IrAF MiG-25PD were equipped with KDS-155 flare dispensers on wings instead of the original wing fences.

Second, most IrAF MiG-25PD wear SPO-15 Beryoza-LE RHAWS with blisters on the intakes, upgraded to 1983 standard.

Last, I found some wreckage photos of the "25211" "Hornet Killer" on Internet and the photos indicate that windshield of IrAF MiG-25s were also painted in the anti glare black, which is quite unique from other Foxbat users.
Making
The aftermarket goods I used are as below:
Pavla Models 72061 1/72 MiG-25P resin cockpit

ARMORY 7228a 1/72 R-40TD "Acrid" missiles

ARMORY 7228b 1/72 R-40RD "Acrid" missiles

ED Models Photo etched set for 1/72 ICM MiG-25PD

Prop&Jet 1/72 resin KM-1 ejection seat

Begemot 72015 1/72 MiG-25 family decal

Begemot 72015 1/72 MiG-25 stencil decal

M.V. Products clear lenses

Click2detail 1/72 MiG-25PD nozzles (http://www.click2detail.com)
References:
Mikoyan MiG-25 Foxbat: Guardian of the Soviet Borders - Red Star Vol. 34

Famous Airplanes of The World Vol. 83 MiG-25

Iraqi Fighters 1953-2003: Camouflage and Markings

International Air Power Vol. 26

Information from www.acig.org
The cockpit area:
Glass area of MiG-25 windshield/canopy is made of plexi glass is very easy to get yellowished, so I sprayed a mix colour of clear orange and smoke from inside and then mask the clear area. Seal material is used from inside windshield/canopy so next step is spraying the seal color by GSI Creos Mr. Color C111. Some details inside the canopy is scratch build by plastic sheet pieces. Note the folded curtain made by Tamiya AB putty which is used to protect pilot from atomic or radiation harm. The cockpit colour of MiG-25, together with many 60-70's Soviet fighters, is a very unique greenish blue (or bluish green). I mixed it by Mr. Color as such radio: C72:C113:C62=3:2:2. The screen of radar scope is made by a MV Product clear lens with clear green painted. KM-1 ejection seat is by Prop&Jet, personally I think the best in the market. Colors I used are based on the recently new release Eduard 1/48 MiG-21MF and it spots on very well.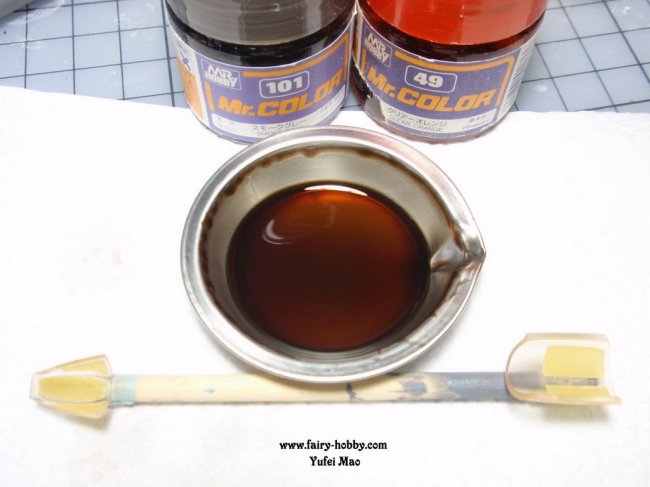 Missiles:
I made a lot of research of R-40 missiles colours and here is the result. I used 5 types of metal colour and gloss white and Begemot's MiG-25 stencil decals.
Yufei Mao
Click on images below to see larger images