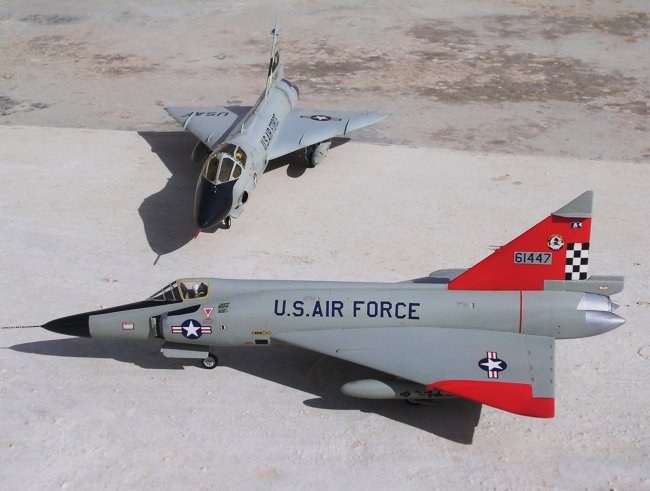 Kit: Convair F-102 Delta Daagger
Make: Hasegawa, 1/72 scale
Kit No: JS-047
Cost £5
Type: Injection molded with two decal options.

Convair F-102 Delta Dagger

History
A follow up to the design of the Convair Delta XF-92 (see http://www.modelingmadness.com/review/korean/us/usaf/attardxf92.htm), as part of the F-92 programme back in 1948, a Convair design known as Model 8 won the USAF design competition in 1950. It was a scaled up in size of the Delta.

Two prototypes YF-102s flew respectively on October 24th 1953 and January 11th 1954. Initial trials showed deficiencies in the high-speed performance. The YF-102A was developed and flew in December 1954. The production model F-102A was similar and 975 were built for service with Air Defence Command starting in mid 1956. The USAF also purchased 111 TF-102s with a two seat side-by-side, which first flew on November 8th 1955. By 1970, only four USAF regular squadrons flew the F-102A but 13 Air National Guard squadrons were equipped with the type. During the 1969-70 many F-102As were transferred to the Greek and Turkish Air Forces.

In my records there is at least one occasion an F-102 has visited Hal Far airfield way back in December 9th 1959 but I believe there was another occasion when F-102s visited the island of Malta. These used to transit from Wheelus air base in Libya that had at that time a big firing range used by the USAF.

The kit, and construction alterations.
This is a Hasegawa kit; an old kit but is accurate in shape and outline. It is devoid of panel lines and has raised ones instead. It also lacks certain detail in particular to the nose wheel areas and bay inside detail. Landing gear was not quite accurate to my liking and I preferred to replace with the metal landing gear issued by SAC. Set SAC 72-2056 has an accurate straight nose gear leg and nose gear wheel well detail. Some alterations may be required to fit the metal undercarriage legs, which is self explained in the attached scrap views.

The kit contains a complete weapon bay that has extended launch rails for six Falcon AA missiles. These missiles are not accurate in shape and need replacement with more accurate ones with added hinges to their control fins. I have preferred to assemble my F-102 with a closed weapon bay. Again there is a drawback in this case as the bay doors have a thin section and would require spaced bulkheads or complete replacement with one built up from thick plastic. I have opted to support them from the inside with spaced bulkheads made from plastic and retained the same weapons bay doors.

The cockpit office was not to the same standard of Hasegawa offering that we find today and for anyone who add a crew figure finding a more accurate replacement one is recommended. A more prominent radar hood was added to the cockpit coaming. The kit pitot tube was too thin and fragile, and was replaced with one made of metal. Finally a slight alteration was made to the wing tips to conform in shape to the close up photo I had of same version.

On a previous occasion I also converted a similar kit into a TF-102 trainer version. I converted the forward fuselage and nose area by replacing the single seat nose section with the one provided by Airmodel set AM-131. This conversion set simply contained a two-part vac form forward fuselage in white acetate and a corresponding cockpit canopy.

This is intended for the Hasegawa kit however it is very basic and all the interior cabin detail had to be scratch built including the rear bulkhead, two crew seats and side consoles, coaming, instrument panel, control columns etc. Air intake plates were also added to separate the intakes from the cockpit. Tiny square pieces to simulate vortex generators were added to the windscreen periphery. Air intakes also needed rework to bring to shape as the ones mounted on the TF-102.
Color scheme and markings
The F-102 rakish lines and broad surfaces lent themselves to the application of interesting and color markings. The F-102 looked good in whatever it wore. This was however a point quickly argued by many in view of the introduction of camouflage.

Nearly all F-102s came from factory painted overall glossy aircraft grey (FS16473) often called "Air Force Grey" but best known as ADC Grey. The natural tone became the Air Force standard, which not only presented a uniform finish but protected aircraft surfaces. Its application to the F-102 was vital in shielding the interceptor's skin from the rocket blast of Falcon missiles.

Residue from the missile's rocket motor was inert until it got wet, then moisture triggered an electrolytic corrosive action that broke down the metal alloys. To ensure adequate protection the F-102 was given a coat of wash primer and a coat of zinc chromate primer, followed by high-grade enamel. Magnesium components received an extra undercoat of zinc chromate, while titanium parts remained unpainted.

Duces as the F-102 are also known that operated over the northern snowy regions featured large red-painted areas of maximum conspicuousness in the event they were forced down. Red-tailed units were the Alaska-based 31st and 317th Fighter Interceptor squadron, the 37th in Vermont, and 57th in Iceland, the 59th in Labrador, the 327th (when it deployed to Greenland) and the Wisconsin and Minnesota ANG.

The kit was made to represent an F-102A of the 57th FIS. In 1972 special markings were added to drop tanks signifying high incidence of encounter between 'Black Knights' and the Russian 'Bear'. The knight's shield and rudder of the aircraft in this design match those of the unit's F-102s.

A standard practice of ADC F-102s is to wear their squadron's emblem on the left side of the tail fin, while the ADC insignia appear opposite. Icelandic based F-102s, of 57th FIS were easily identified by this checked rudder. The pennant near the top of the fin was the ADC 'A' award which recognized units that they distinguished themselves by sustained operational effectiveness.

The three-tone South East Asia colour scheme was introduced in the SEA theatre as the name implies and this goes back to early 1966. War in SEAsia brought the Delta Dagger to serve in combat and these came from the PACAF squadrons. Four F-102s were first deployed at Clark Don Muang Airport outside Bangkok, Thailand in 1961 to provide air defence to relieve a flight of six F-100 Super Sabres.

Early participation in the VN conflict has began wartime operations in 1962 with F-102s of 905 FIS. Ground fire at Da Nang air base destroyed three. By the end of 1966 twelve F-102s stood alert in S Viet Nam Bien Hoa and Da Nang. F-102s flew combat missions CAP escort for B-52 bombers. On one such mission, on the 3rd of February 1968, two F-102s from 509th were attacked by a pair of Mig-21s of north VN air Force. An Atoll missile fired from a Mig shot one of the F-102s down.

Twenty-Four F-102s sent to Viet Nam performed a wide range of duties. Fifteen were lost during its testimony of its lengthy involvement in the war. Eight of these were operational losses, four during ground attacks, two downed by ground fire and one shot down by a Mig-21. By mid 1970 the squadron was inactivated with activities usually taken over by F4s.

The camouflage on F-102s thwart communist agents from tracking Air Force units on alert. My third model of the Duce is in SEA camouflage that represents an aircraft from 82nd FIS based at Naha air base in January 1968 where it was until 1971 hence the tail fin codes NV. Those that were based at Bien Hoa had tail codes PK while those at Clark AB 1966-69 carried tail codes PE. I have used kit decals for this model while Micro Scale decals were used on the other two.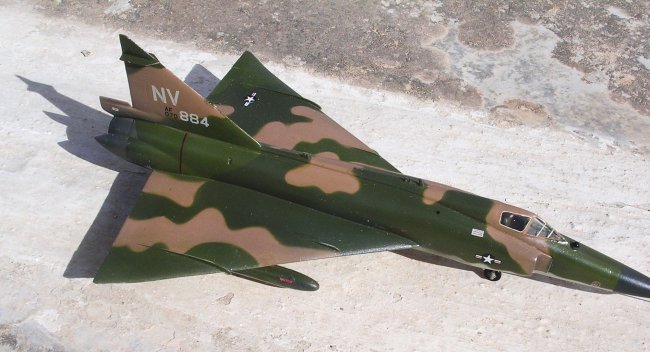 Conclusion
It has been a long journey since the XF-92 first took to the air and the F-102 has since served at a number of areas both in the northern and southern hemisphere giving its share in developing air tactics during its time in warfare. Building three models of the type in different liveries also seem to give a good representation of its service history.

Ref:
Convair F-102 Delta Dagger by Wayne Mutza
Carmel J Attard
Click on images below to see larger images