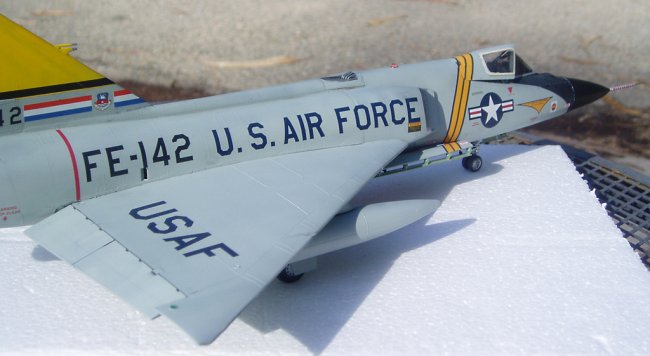 Hello! This is my Monogram F-106 Delta Dart, built and finished completely OOB.
My photo research revealed that these jets were kept pretty clean compared to other types, so I kept the weathering to a minimum - just some slight silver drybrushing around the nose and cockpit area, and some subtle pre-shading around the aft fuselage area and wings.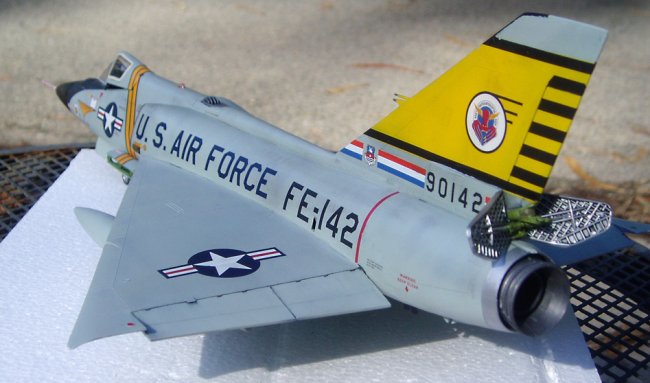 After all these years this is still a pretty good kit, although some of the engineering and breakdown of parts provided a great exercise in patience and self-discipline. I am referring to the seams of the wings and the vertical stabilizer, and how instead of being on a leading or trailing edge, they were on one side of the wing/rudder, making it VERY difficult to clean the seam without sanding away all that wonderful raised surface detail. I ended up using masking tape to protect the adjacent areas, filling the gaps (and they were some BIG gaps!) with Squadron putty and then sanding the area flush. I still lost some surface detail, but I was able to save most of it.
With a little patience and a steady hand, one could make a really nice display piece out of this kit. Thanks for checking out my work!
CHEERS!
Ramon R. Lomeli