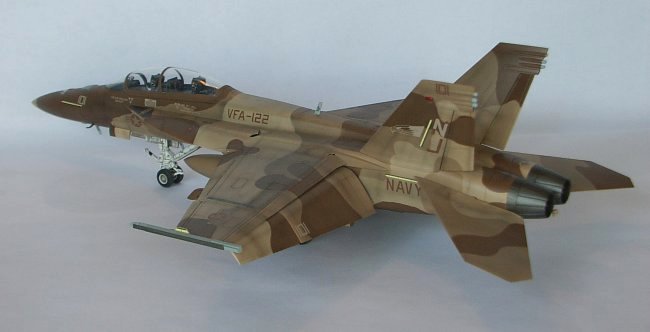 This is the excellent 1/48 Hasegawa F/A-18F Superhornet. I must admit that these, along with their Legacy Hornets, are among my favorite kits to build. I find the Hornets/Superhornets to be fantastic looking aircraft and there is such a variety in the markings that building options seem to be limitless. This particular kit was built out-of-box using Fightertown's fantastic "Wicked West Coast Hornets" decal sheet. I did scratch build the seatbelts and the HUD.
This model represents "Expert 101" from Lemoore NAS in California. Although it looks like an aggressor paint scheme this is a plane from VFA-122 which is a training and replenishment squadron. My understanding is that the commander wanted a desert camo paintjob so he got it. Actually, this squadron has a few colorful planes.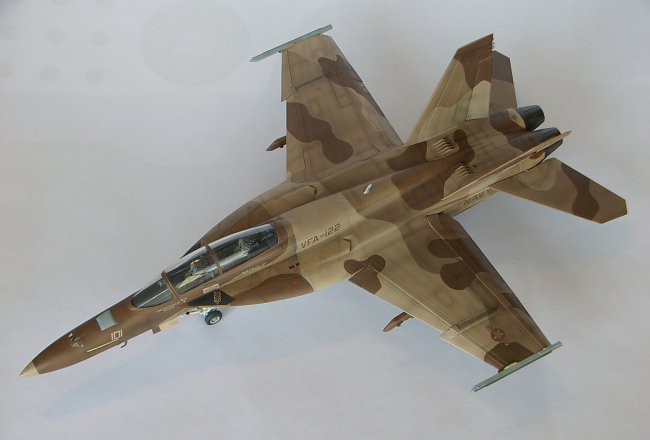 As for the kit, it was very straight forward. The area that gives the most trouble are the intakes. They aren't really hard to assemble and paint but it can be tricky getting the assembly (the white part) to mate up with the forward assembly (the camo part). Also, the side fuselage parts need to be attached carefully to the upper and lower fuselage parts to avoid difficult-to-fill seams. The join where the nose section meets the bulk fuselage section (just above the fuel tank) also requires some extra care.

Anyway, hope you like it!
Fly-n-hi