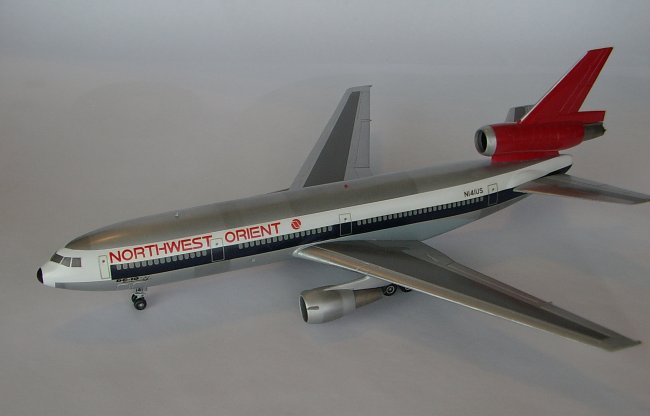 This is the 1/200 scale Hasegawa DC-10-40 in the 1980s Northwest Orient livery. There really isn't much to say about the kit since it is very basic and straight forward with easy assembly. This particular build is completely out-of-box...even the decals.
I used Tamiya red for the tail, Mr Color 308 for the wing/body fairing and SnJ acrylic aluminum with the aluminum and steel buffing powders to get the various panels in the metal fuselage. I don't think I would recommend this SnJ paint because it has to go on fairly thick and you really need to use the buffing powders to achieve the same look that Alclad II give straight out of the bottle. It can be time consuming and messy. I think I will just stick with Alclad II from here on since it produces a better result.
This was definitely a fun kit to build.

Hope you enjoy it!
Fly-n-hi