This is my first entry to ARC. I have always been fascinated by WW2 Japanese aircraft with their various camouflage schemes and potential for weathering detail. I built this Hayate to look like the picture on the model box. I kept it simple where painting was concerned and followed the kit recommendations: Upper surfaces are Olive Drab (FS34087); Lower surfaces are Gray Green (128). Eduard exterior and interior photo-etched sets were used. The seat cushion is masking tape. Paint fading around the cockpit and wing root was done with SnJ Spray Metal polishing powder. Paint chipping was done with salt.
The model was primed with flat white and panel lines traced with flat black. The areas of the model where I wanted to simulate paint chipping was sprayed with silver. All paints used thus far were Acryllic. I then sprayed the model with an enamel gloss clear coat and sprinkled salt over the areas to be chipped. This was then sprayed with the Acryllic upper surface color - Olive Drab. Afterwards the salt was removed with a tweezers or knife to expose the silver underneath.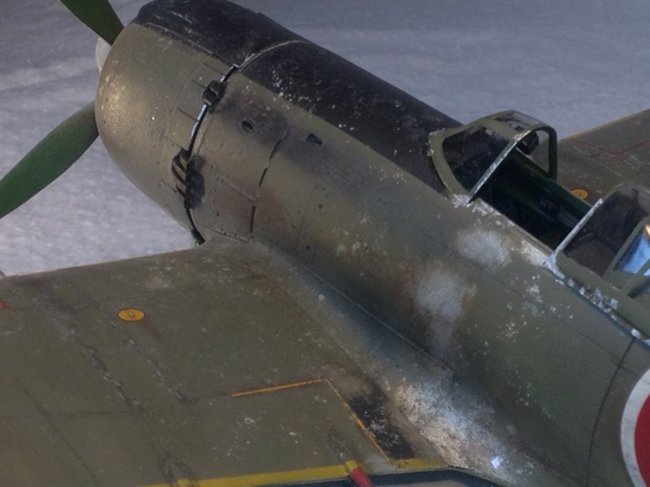 Mud on the landing gear is baking soda mixed with brown paint and applied with a Q tip. The model was given an enamel Burnt Umber wash, and black and brown chalk for gun and exhaust stains. All tips/techniques mentioned above have come from reading ARC Tools 'n'Tips, a wonderful resource. Hope you enjoy.
Michael Callari III