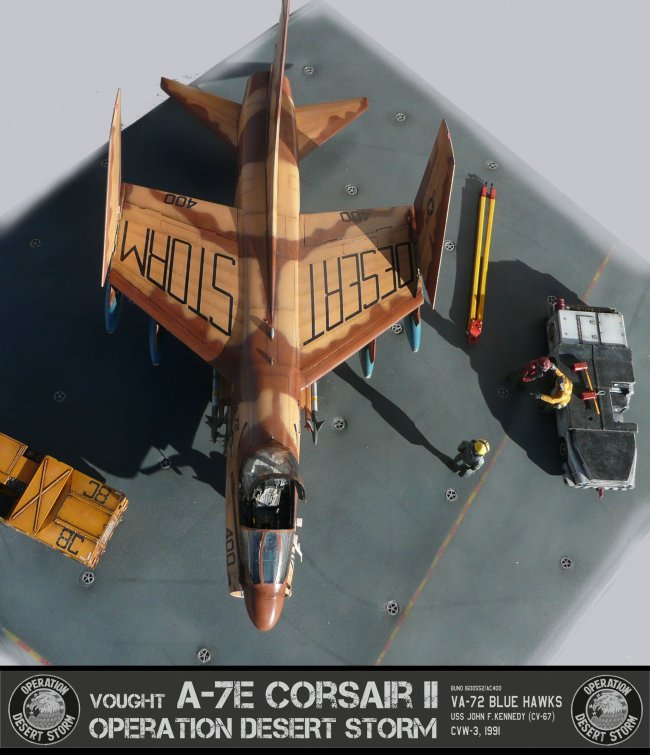 CAG Aircraft for VA-72 during Desert Storm war.

It was painted in this unique commemorative scheme just after the end of the conflict: the camo faded very fast during the final cruise to homeland adding a good "beast of war" look.

I've used Hasegawa kit and many aftermarket sets: 3 Aires sets (cockpit , wheels bay, electronic bay), a seamless intake, Royale resine wheels, Superscale and CAM decals...

The kit cockpit is good but the Aires one is a dream of details, it fit very well alone but with the other 3 resin sets closing the two fuselage halves is a pain ... the rest is a simple build, the A-7 is well know to be one of the easiest Hasegawa 1/48 Jet kit.
Weapons come from Hasegawa sets (sidewinders in the kit are the old D type, L version where used), the tanks were omitted because..well I wanna see the Aires wheel bay! :D ..so I've switched to 4 inert mk-83 (peace & love after the victory).

The camo is another story: the tan is a unique color (forget it about the classic sand 33531 in many instructions...the color is something like a good bronze skin) Pollyscale "special tan" is a good match (thanks to Graziano for the advice), for the red-brown I've started with pollyscale red-brown and I've added many shades of browns/red hull from the loving Tamiya acrylics, I don't know why but the Polly special tan is a pain with airbrush!

The deck was build from scratch, tie-downs went from an old etch set made by PP Aeroparts, tractors went from PWMP for the MD-3 and Verlinden for EPU.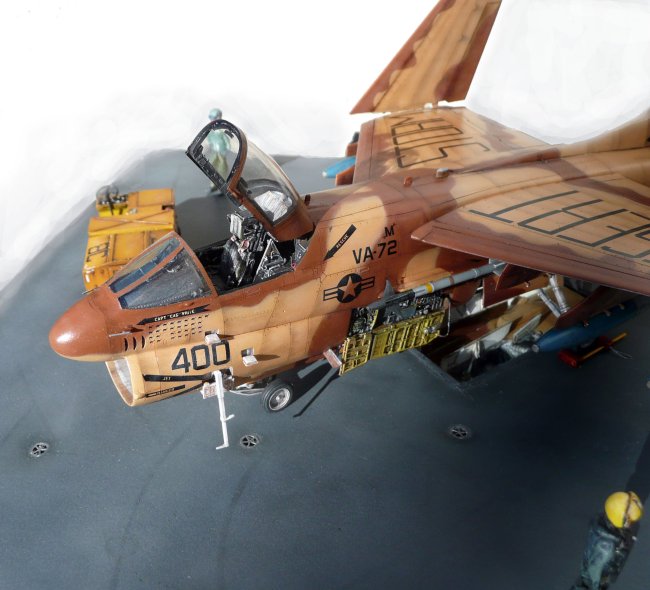 Many thank to TPG for give me motivation to finish this work (I've finished a kit? ..wow! a very rare world event happened!) :)

Cheers from Italy.
Lucio P.