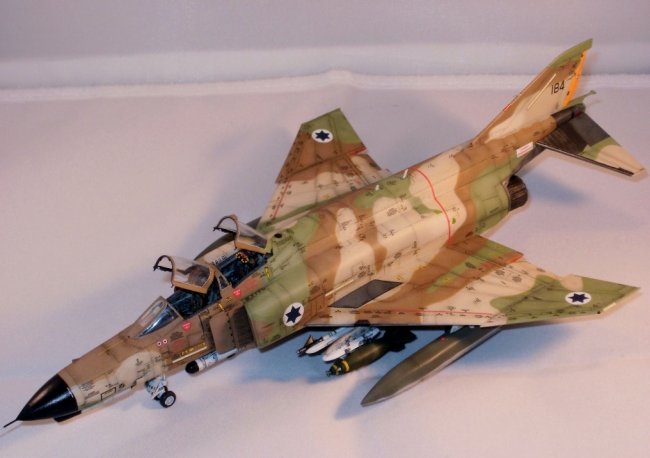 I'm glad to show you my Fujimi F-4E built as an Israeli Air Force's Kurnass 184 during the October 1973 Yom Kippur War.

As an IDF/AF fan, I've planned various F-4 for my collection to cover at least one airframe for every Israeli squadron that used the F-4 through its career and this is my first, covering a October 1973 War's Knight of the Orange Tail bird.

During this War, the Kurnass squadrons was charged with the most demanding missions of deep strike, SEAD, CAS and ABA, as Israel selected the Phantom for its great bomb load capacity to fill the heavy bomber slot in its Air Force. This particular Kurnass was credited with 4 MiG kills, but the pics of the YKW in my possession show the airplane with two kill roundels referred at a September, 1973 engagement resulting in a double kill for the Spector/Oren crew. Honestly, with the danger for Israel to be wiped out by the Arab offensive and the high sorties rate sustained by the IDF/AF squadrons during the war, I don't think that the plane was adorned with the other two kill markings during the conflict.

And because my model represent an F-4 during a YKW ABA (air base attack) mission, the choice of markings and load out was simple.

The plane survived the war and late in is career was upgraded as Kurnass 2000 # 584 in charge by No. 201 "The One" Squadron.
The kit is a good option to the Hasegawa Phantom family but with some shortcomings like the cockpit, the forward fuselage area and the shape and dimension of various panel lines, but after all isn't too bad.

I've practically scratched the whole pit with the help of plasticard, lead and electric wires, Archer resin rivets to simulate the circuit breakers and some PE from the stash. The final touch was a couple of Quickboost resin seats. The bombtrucks loadout was obtained with the help of the Hasegawa Weapons sets. The model was painted with a combination of Gunze and Alclad colors, weathered with oil paint (for the panel wash), AK Interactive wash and Tamiya Weathering sets for the fluid leaks and the metallic parts.

The decals are a combination of Sky's Decals sheet for the National and Squadron markings and Isradecals sheet for the english service stencils. In fact Sky's sheet stencils are in Hebrew but these were adopted in the '80s so I was forced to replace them with the Isradecals ones.
I hope you enjoyed the model.
Gianni Coniglio