I built this kit for my dear friend David Yoshida and his son Daniel. All Tamiya Vipers are of superb quality. I have almost no cons about the quality of this build; the engineering is superb. My only opinion is they could have molded on the static dischargers on the trailing edge of the controllable surfaces as the Kinetic kits do. The kit gives you a clear and smoked canopies; I chose the smoked bubble top. I added aftermarket Eduard zoom instrument panels, AIM 9 missile covers, wheel chocks, RBT tags, pitot tube and AOA probes, and ejection seat. The markings are out of the box. I chose the Arkansas ANG markings to honor the fact that my friend Dave grew up in that state. I used MM Light Ghost Grey, MM Gunship Grey and a custom mixture for the radome. Weathering was done with pastel chalks to tone down the fuselage and added black "grime" on the fuselage between the flaps and elevons.
I bought the wood base at my local arts and crafts store. The sides are lacquered in red oak. I wanted to go for the "look" of a desert air base in the middle east.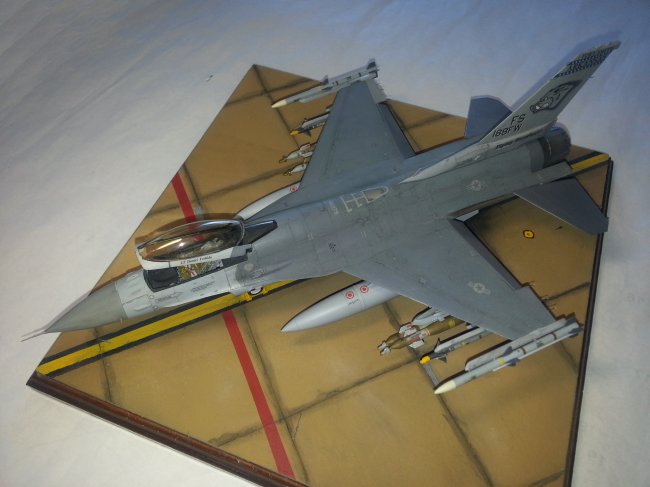 All in all it was a fun build that I did on and off for nearly a year and a half. I lost both canopies when I moved from San Diego, CA to Tijuana Beach, Mexico. Fortunately, my fellow modelers on the ARC forum kindly provided me with two canopies. Shout out to the gentlemen that helped me with this! I built a Hasegawa model in the same markings about 10 years ago. You can see fotos of my first build in the F-16 Galleries. If you compare the fotos you can see my weathering techniques have improved since then. I created custom canopy decals for Dave and Danielle. My friends were very impressed with the build!
Rodrigo Rendon