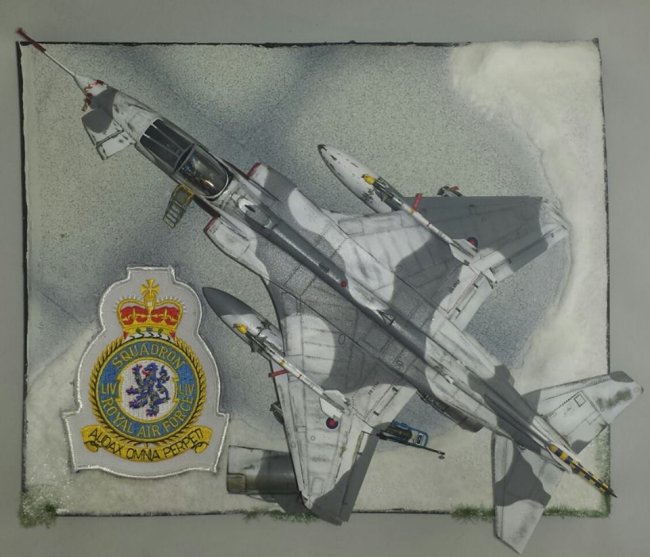 This is the long awaited kit fro

m Kittyhawk of the Jaguar GR3 and what a kit it is! I wanted to do something a bit different and the 56 Sqn Snowcat was perfect. This build was going to test all my skills as a modeller, I wanted to try new techniques and use both plastic, resin, photo etch and white metal to bring this model to life. The moulds and plastic in the kit are superb, Kittyhawk have included some photoetch in the kit which helps to make this model stand out. Unfortunately you can immediately tell that this is a model that has inherited the Jaguar A kit from last year, the majority of the armaments available are French in origin; the kit only supplies one drop fuel tank aswell.

I wanted to make this model interestin

g so I decided I wanted a broad selection of ordinance which would include the BL755's and the iron bombs with high drag chutes. The over wing sidewinders were a must and I wanted a twin drop tank configuration. Serious investment was needed and Flightpath came to the rescue with the amazing Jaguar armament resin set which included everything I pretty much needed.

At the time of the build I wanted to increase the detail in the cockpit, the kit one is good and with the photoetch enhancements I would say it is better than most, However I decided to use the Aires resin cockpit set for the Airfix kit; I used the seat, instrument panel and shroud and integrated them into the kits cockpit tub. I needed quite alot of putty, sanding and moulding to get the Aries set to fit, but the result, I feel was worth the effort. The build itself is quite a challenge as it is quite complex, I certainly found there was a need for a level of patience and trust in the build sequence, which in the end all comes together in the end. As I was going to expose one of the RR Avon engines I wanted to ensure that it was enhanced to the eye; I did this by scratchbuilding all the plumbing with different diameters of wire to give the look of a fitted engine ( I did use some ref photos, but I wanted to get the feel of it rather than accuracy on this occasion).
Once all the sub-assemblies were put to

gether I use Vallejo air paints, along with Vallejo washes to start to paint and weather the aircraft. All RAF 'snow' schemes were temporary, with the white camoflage painted over the drab green. In most of these cases this was just white wash, which soon rubbed off exposing the green underneath, this is the look I wanted to replicate. Once satisfied with the level of weathering I used future klear to seal the model and I then applied the decals, flight tags and finished off the scratch built FOD guards. I wanted to show this model on a small diorama which had to be a winter scheme. I used a foam board with a cork matting, I sculpted an area using putty for snow mounds and then airbrushed the hard standing area, finishing it off with modellers snow. The 56 Sqn patch was obtained to represent their snowcat theme.

It is a fantastic kit, which built on its own is superb, but Kittyhawk have left enough for a modeller to use their skills to enhance it to their tastes. I am now planning a second model depicting the Jaguar deployment during the Gulf War.

Richard Spreckley

Click on images below to see larger images