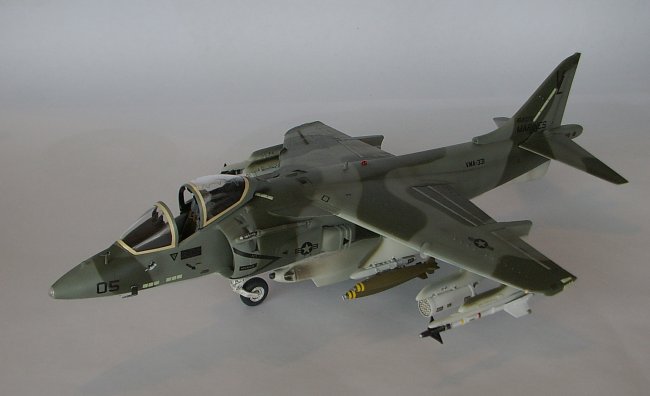 This is the 1/48 Monogram AV-8B Harrier. I think this is a great little kit! Monogram did a fantastic job of capturing the lines of the Harrier.

There are a few area that need a little filler and sanding but nothing terribly difficult. In fact, for an old Monogram kit I think the fit is surprisingly good. Some of the trouble areas are the seams where the wing assembly sits in the "saddle" of the fuselage. There will be a slight gap at the front seam or the rear seam. It just depends on how you place it in and which seam you'd rather deal with.

Another issue is the raised panel lines. They are not symmetrical on each side of the fuselage. The locating detents for the pitot tubes do not match up...one is much lower than the other. I filled the detents and sanded off the panel lines.
The kit includes two fuel tanks that are molded with the inner pylons. I cut off the fuel tanks so I could add the TERs with the Mk. 82 bombs that were left over from an Academy kit. The TERs are from the Hasegawa Weapons Set as well as the LAU-3s.
This particular paint scheme was only worn for about a year or two when the Marines first flew the Harrier in the later 70's. Shortly afterwards they painted the camo in a wrap around pattern eliminating the off white underside.
Fly-n-hi