German ramjet interceptor project
The Skoda Kauba SK P.14.01 was a German ramjet project at the end of the second world war, created by Eugen Sänger. It was planned to place it on a dolly with four rocket engines for take-off. When the dolly accelerates, the ramjet could be started. The armament was a MK 108, right above the pilot.

Bird Models (ebay-shop) has a simple resin kit of this unique interceptor (also two further Skoda Kauba concept planes). The kit includes also the dolly.

To give a realistic look to the model, some modifications were necessary. The fuselage is closed, so the first step I made was drilling holes with different diameters through the parts which belong to the ramjet. In the nozzle there is a large cone, but that´s not how the planned ramjet was designed. It was almost an empty tube. In the front there was a fuel pump with a little propeller as generator. In the middle there were rings which injected the fuel. Those inner parts I built from scratch. For the rings I took aluminium-tubes and sawed them off.

The rear part of the cockpit was also filled with resin. Here I removed material, too. I added a pilot-figure and I built the MK 108. The barrel is a cannula from plastic-glue. Further I added a small sight in the front.

I had to use some filler to give a smooth surface to the fuselage. Further I engraved some panel lines into the fuselage.
To make it looking more realistic I added the antenna and the pitot tube.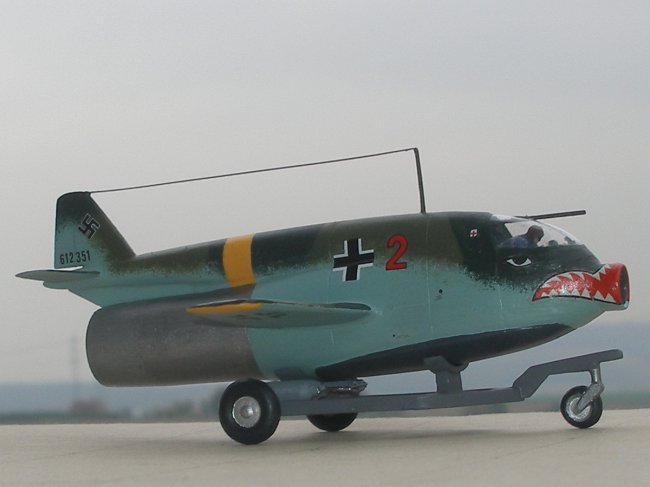 On the dolly I made some modifications. I transferred four old bombs into the rocket engines. Also the holders for the plane I made by myself.
All was painted with a brush. The kit includes no decals, so I used some from other models. Finally I sprayed clear varnish over all.

Experienced modellers can make a very interesting project-interceptor out of the Bird models-kit. I enjoyed very much doing all the modifications and improvements.

Greetings from Germany.
Thomas Brückelt www.acrokit.com