Unicraft sells a kit of the German Volksjäger ("People´s fighter") in 1:72. The tiny plane should have been powered by a rocket engine, it was planned to arm it with two MK-108, but it was never built.


The kit contains only a few parts, which need to be reworked a bit. They fit very well and the surfaces have lovely detail. There is a instrument panel and a seat for the cockpit, the rest must be build from scratch. So I added plastic-sheet for the bottom and the rear panel, a stick, two sidepanels and a visor. The instrument panel seemed to be a bit too large, because the pilot could not get his legs below, so I made it a bit smaller.
I found a little windmill generator propeller in my spare parts and fitted it to the nose.
Further I added the antenna and the pitot tube. After painting the model with colors from Revell, I attached the decals. I used some which were left from other kits, because there are no decals included.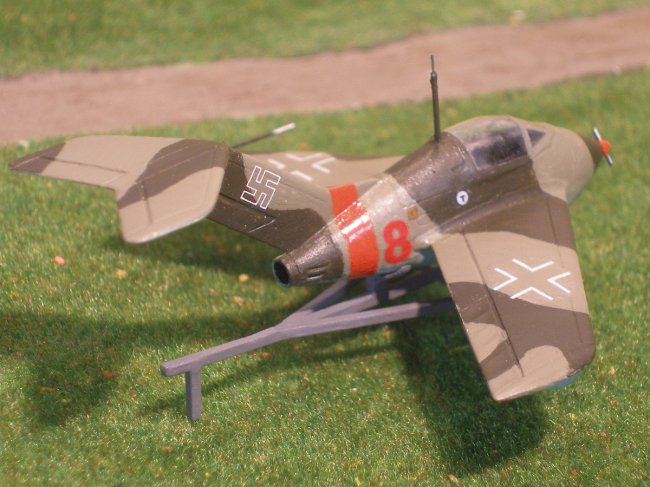 The dolly comes from Kayaba Ku-4 (Meng), with little modifications.

I enjoyed making this tiny "what-if-fighter". It's a nice short-time-project.

Greetings.
Thomas Brückelt