This is my 1/48th Wellington Mk. III in RCAF markings representing a "Wimpy" belonging to 425 Squadron. Trumpeter has supplied us with a great (overlooked in 48th) subject with the release of their Wellington series.

Detail and fit is very good (the engines are fiddly however, this is due to the inclusion of detail. (Just make sure you seat the exhaust collectors deep enough into the receiver holes to have the cowls properly fit later.)

The interior is well detailed, however you can't see most of it once the fuselage halves are sealed...so you can decide how much work to administer in this area. The gun turrets are beautiful and the transparent parts crystal clear. (Caution - the guns are very fragile - I suggest you cut off the barrels of the guns, set them aside until the model is completely finished, then glue them into position.)

Metal gear, vinyl wheels and brass etch are all included in the kit, making this build straight out of the box outstanding.

If you choose to display the bomb bay open, there are a LOT of bay doors to affix or as an option one single closed bay part can be used...but then you'll have to find a use for the many early RAF bombs supplied with the kit.

Open or closed cowl flaps; positionable flight control surfaces and landing flaps are included...and I don't recall using any filler during the build. There seemed to be some whining about the fabric covered geodetic construction detail being far too pronounced however to me it seemed quite acceptable and if it doesn't suit you, a sanding may solve this...

Due to the inclusion of detail, this kit is not for the beginner or quick-build enthusiast (not that there is anything wrong with that :) however, if you want an impressively sized Wellington Bomber to display this is the kit (now if they would give us an updated Lancaster :)

During the paint process I varied the shade of colour during spraying for a subtle weathering effect. "Type C" fuselage roundels and tail fin markings were decals and all other markings were sprayed using paint masks as the red of the letter codes seemed a bit bright to me.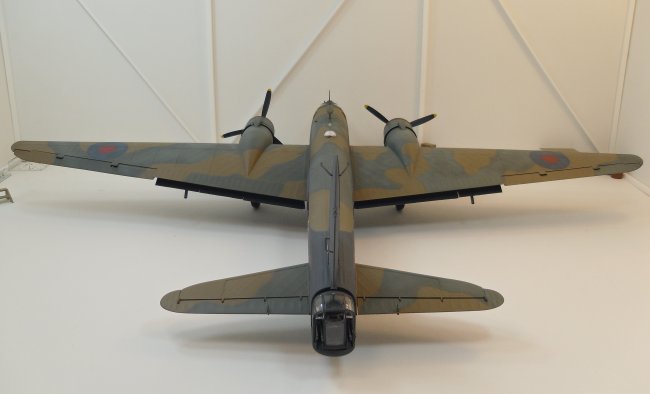 April 14/15, 1943 - 30 Halifax bombers from 405, 408, and 419 Squadrons were joined by 91 Wellingtons from 420, 424, 425, 426, 427, 428, 429, and 431 Squadrons for an attack at Stuttgart. Bomber crews were over the target at between 12,000 and 20,000 feet, releasing 42,000 lbs of high explosives and 236,000 lbs of incendiaries. According to reports, the weather was clear and much damage was caused to the industrial area, including a large rail repair shop.

F/O T. Doucette RCAF; Sgt A. Jones RAF; F/O J. Desroches RCAF; Sgt D. Vollans RAF; F/O G. Ledoux RCAF and W/O2 P. Trudeau RCAF flying in Wellington III X-3763 coded KW-L, failed to return from this operation. All were killed.

KW-L took off Disforth 2107 - Crashed at Mussey-sur-Marne (Haute Marne), on the W bank of the Marne, 8km S of Joinville, France. All crew rest in Mussey-sur Marne Communal Cemetery.

Salute to the bomber crews of WWII - I am very pleased with the final result so bought a 1/48 Trumpeter Wellington Mk.I for another RCAF build later.

Build your stash,
David Mielke