This is my 1:48 scale ICM P-51D model "converted" to a F-51. I used the Tamiya F-51 kit's droptanks and HVAR rockets, PKTinyland's spinner, flap, wheel and gear cover sets and Vector's wheel bay sets to detail the original kit. I used the original cockpit parts since I found them reasonably detailed for this scale, especially counting with a Korea war black cockpit anyway. Seatbelts also came from PKTinyland and the canopy was replaced with a super clear Squadron vacuum formed one.

I found the stabilizers on the Tamiya HVAR rockets too thick, so replaced them with thin sheet aluminium bits. After the model was primed with Gunze Surfacer, I riveted the full model based on P-51 restoration photos found on Internet. I thought a lot about whether BBVI's wings were painted or not at that time, but in the end I decided to portray a natural wing plane. For metal surfaces I used Alclad aluminium paints, for other colors I chose to use Gunze acrylics. I find all of the Korea planes in Tamiya's F-51 kit very attractive, and decided to build "Buckeye blitz - VI" from them for now. I used all the Tamiya decals and was very happy with them. I was a little worried how thick they would be on the kit, but after trimming the clear film, they look like "painted on" on the model.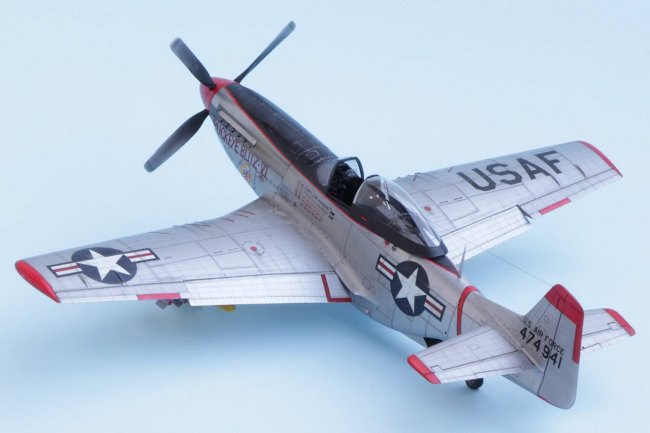 During my research on the original plane, I found it out that BBVI was much more colorful then as Tamiya specifies it in their instructions. Initially it bothered me much, because I liked the Tamiya representation better - it shows me a colorful but somewhat discreet scheme. But since I like historic modeling, I wanted to paint the plane as I saw it on the photos. After the basic colors were up on the model, I washed the panel lines with a mix of synthetic Tamiya black+brown, and dirtied the tyres and wingroot with Tamiya buff. I also used buff color with a hint of brown for exhaust stains.

I'd like to thank Károly Juhász and Jean Bardaud for the help provided during the research of this plane.
Peter Kormos