Not close to an aircraft but here goes! This is the storied 1/72nd scale Revell Flower Class (Platinum Edition) converted to a Canadian corvette HMCS Sorel – chosen simply because I found a great photograph of her showing the effect the sea had on these important ships. I employed a significant number (like…most) of the upgrade sets produced by Great Little Ships – which are for all intents and purposes mini models in themselves! I ended up scratchbuilding a fair number of items (mast, searchlight platform, depth charge storage racks, Engine Room skylights, 27' whaler davits, food storage lockers, wash deck lockers, lifebelt storage racks, collision mat rack, additional hatches, additional carley float storage, various other vents, lockers and boxes etc.) The Gunthwaite crew figures add some life to the model.
The "Canadianization" of the ship included:
Squaring off the stern by heating with water and forming over a balsa wood mold using the reference work "Anatomy of the Ship: The Flower Class Corvette Agassiz" produced by John McKay and John Harland.

Moving the 2-pound pom-pom gun aft.

Extending the boat deck aft to provide a covered weather deck location.

Providing a new galley location.

Extending the galley vent.

Changing the bridge layout.

Adding the 27' whaler (vs 16' dinghys).

Adding the combined depth-charge and thrower storage.

Changing the blast screen ahead of the wheelhouse.

Modifying the Engine Room casing (adding watertight doors etc).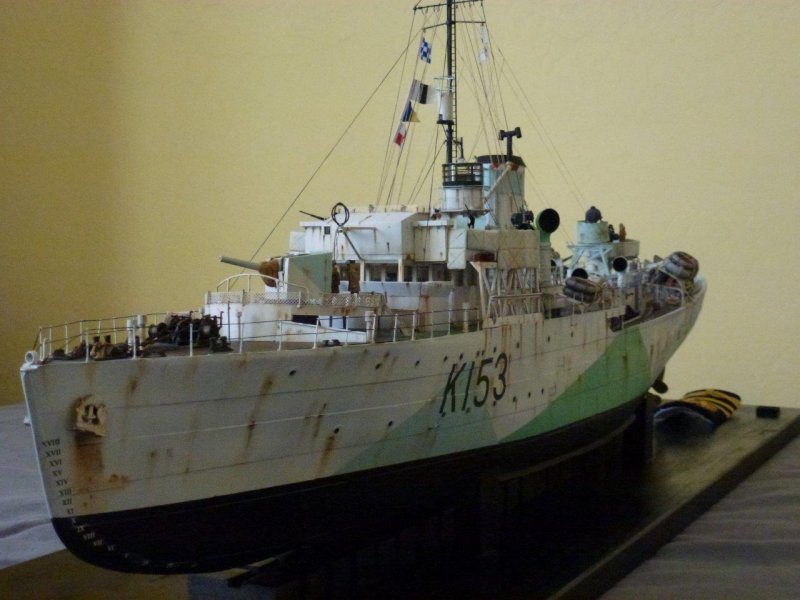 A full list of the detail parts and manufacturers used is below:
VectorCut:
Lifecolor Camouflage Set – Royal Navy Western Approach (Late War) x 2 ((22ml x 6). Includes UA 637 Hull Red, UA 638 W.A Blue, UA 639 W.A Green, UA 640 White, UA 641 Semtex Green, UA 642 Corticene.)
Lifecolor Royal Navy White x 4 (UA 640) – you need lots of white!
Great Little Ships:
Deck & Fittings Set

Type 'C' Bridge Set

Funnel & Mast Set

Wooden Decking Section

Depth Charge Set x 2

Depth Charge Additions x 2

Oval Carely Floats x 2

Lifebuoy Set

Propeller & Rudder Set

Splinter Padding x 2

20mm Oerlikon AA Gun Set

2 pdr QF Mk VII Gun with Bandstand

Hedgehog Anti-submarine Weapon

Mk IX 4" Breech Loading Gun Set

3'3" Steel Rope Rail Set x2

3'3" Pipe Rail Set x 2

4'3" Pipe Rail Set x 2
Caldercraft
27' Montague Whaler

Studded Link anchor Chain (10 links per inch)

1/64 scale boat accessories (oars, pike)
Scale Warships
Generic Ladders 72nd scale

Cable Reels 72nd and 96th scale
Shapeways
Gunthwaite
GM 72-024 Officer & Ratings – duffle coats

GM 72-007 British and Commonwealth Sailors, Officers & Rating – duffle coats

GM 72-017 Ratings, Oilskin coats

GM 72-015 Ratings and Officer, Duffle coats "on watch"

GM 72-016 Duffle coats, steel helmets
Syren Shipbuilding Company
4mm cargo hooks

Rigging (various)

Blocks (various)
Durango Press
CanMilAir Decals
BECC Flags
EZ-line Rigging
The amazing thing is that at the end of the day I only ended up using the hull, wheelhouse, and funnel deck from the kit – which is kinda crazy looking at the box and seeing essentially full sprues!
Overall this project took about 18 months of work – mostly due to my own procrastination capability – but it is a staggeringly intense thing to build. You've got to be prepared to think in modules, handle many elements many times (ie clean, prime, paint, fit, refit…), recognize that progress is glacially slow until it all comes together.
Overall I won't be rushing to build another ship of this scale but I do like the way it looks – and it captures a period of history where great sacrifice and skill won the day.
Graham Symmonds