This is my first article submission to ARC Air's Gallery. I hope you enjoy!

I am not gonna lie, before this project began I was pretty much petrified of the 1/48 Hasegawa F-14. I had heard way too many horror stories about trashing the kit or putting it on the shelf of doom for years of dust collecting. But, as I have gone along, I have learned that it is not the monster I made it out to be in my own mind. Don't get me wrong, this is a very challenging kit, by FAR the most challenging of the 12 I have undertaken so far. But there are tips and tricks out there to counter every trouble spot on the kit, and with patience they can be overcome. I did not get everything perfect (and still have a ways to go), but I am pretty happy how I managed the many challenges on my first try. I will get better on the next one, to be sure!

This build held a host of "firsts" for me. First time building the Has Tom. First time using aftermarket upgrades other than decals. And first time using a new pre-shading technique, black-basing. I am very pleased how that technique turned out, so I think that will be my new go-to, especially for Navy birds.

The markings I used are of the famed VF-84 Jolly Rogers, circa 1993, from the SBDecals "Feisty Felines, Part 1" sheet. This is a really cool sheet, it covers one particular BuNo (160390) F-14 throughout it's life in three different squadrons. In fact, it's life in VF-84 was rather short lived and pretty uneventful. In the other two squadrons, it actually was involved in two very famous incidents. As part of VF-41 Black Aces, it was "Fast Eagle 107" with Cdr. Hank Kleeman and RIO Lt. Dave Venlet and was involved in the Gulf of Sidra Incident as one of the two that shot down a Libyan Su-22 Fitter. Then, after the stint in VF-84, this aircraft was transferred to VF-213 Black Lions. In another famous (but tragic) incident, this plane earned the headlines again on Oct. 25, 1994 when, piloted by Lt. Kara "Revlon" Hultgreen, U.S. Navy's first female F-14 pilot, crashed into the sea while landing aboard USS Abraham Lincoln, off San Diego. While her RIO, Lt. Matthew P. Klemish, ejected safely she didn't survive the ejection.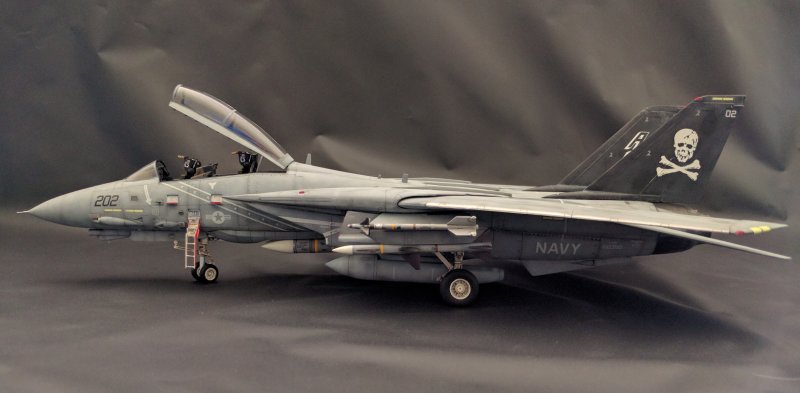 Overall this has been the most rewarding and most challenging project for me so far. I feel like my building skills really improved tackling this challenge, and the resulting model really surprised me in! In fact, I even had to step up my picture taking skills for this one! LOL
Well, on to the pics! I hope you enjoy...
Kit:
1/48 Hasegawa F-14A Tomcat (P18)

Decals:
SB Decals "Feisty Felines, Part 1", Afterburner "Victory Cats" (for lt. gray stencils), Furball Aero-Design "Bombcat Weapons Set" (for the missile markings)

Aftermarket:
AIM-54 Phoenix missiles from Hasegawa Weapons Set B, and AIM-7 Sparrows and AIM-9 Sidewinders from Hasegawa Weapons Set C, Quickboost Ejection Seats, Eduard F-14A PE Set (full), MasterModel Pitot and AOA probe, and Eduard Canopy Mask.

Paints:
Gunze Mr. Surfacer Black 1500 (primer base), Tamiya White Liquid Primer (for pre-shade stippling), Gunze Aqueous H307 FS36320 Dark Compass Ghost Gray (overall basecoat), H308 FS36375 Light Compass Ghost Gray (for corrosion control spot painting), and Black, Tamiya smoke, and Alclad II Gloss Black Primer, Aluminum, and Burnt Iron. Future Gloss coat for decals and Future+Tamiya XF-21 Flat Base 6:1 ratio for final matte coat. MIG US Navy weathering set for panel washes.
Michael Phillips