So what has not been said about the new Tamiya 1/48 Tomcat? It fits incredible. Yep. The engineering is ingenious. Yep. It is all true. I must say I enjoyed every minute of this build, and completed it in about 2.5 weeks. Of the all the kits I have built, this one is FAR AND AWAY the best fitting. I did not use a single drop of putty, and many parts will go together and hold even without glue.

This was built OOB with the exception of the exceptional new Furball F-14 sheet, "Colors and Markings of US Navy Tomcats, Part III". I chose to use the VF-41 Black Aces from 1976. No bones about it, this is one of my favorite schemes for the Tomcat. (See what I did there? LOL) As usual these decals performed flawlessly. I did make a little booboo with the decals, the "VF-41" on the ventral fins is not straight, a product of applying the decals to the fins before the fins were attached to the model. This is the second time I have done something like this, so I think I will be more cognizant in the future of how they will sit once attached.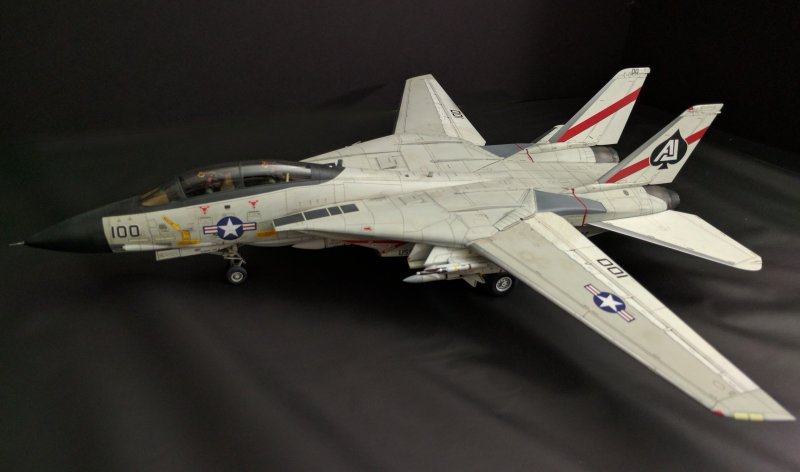 Now on to the bad. At some point after applying the future coat and decals, I got some hairline spider cracks in the future and/or paint. Since the decals were applied and fully set by the time these were evident, it was too late to go back. They are not too noticeable at a distance, but up close you can see them at certain angles in the light. Because of this this will never be a show build, but that's ok, she looks just fine on my shelf in my office. :-) I just have to make sure that this doesn't happen again. Has never happened to me before, and I am using my normal Gunze/Future combo. After some discussion on the forums, I believe it was a combination of factors, including but not limited to the Gunze Aqueous Gloss White and Future cure time differences, insufficient time between applications, time of year of the build (lack of humidity), etc. Oh well, nothing ever goes perfectly according to plan all the time, does it? Chalk this one up to a learning experience.

Here is what I used on this build:

Kit: 1/48 Tamiya F-14A Tomcat

Decals: Furball Aero Design "Colors and Markings of US Navy Tomcats, Part III" and OOB (stencils)

Aftermarket: None

Paints: Gunze Mr. Surfacer Black 1500 (primer base), Tamiya White Liquid Primer (for pre-shade stippling), Gunze Aqueous H315 FS16440 Light Gull Gray, H316 FS17875 Insignia White, Tamiya smoke and Rubber Black, and Alclad II Gloss Black Primer, Airframe Aluminum, Aluminum, Hot Metal BlueJet Exhaust, and Burnt Iron. Future Gloss coat for decals and Future+Tamiya XF-21 Flat Base 6:1 ratio for final matte coat. MIG US Navy weathering set for panel washes.
Michael Phillips
Click on images below to see larger images