Here is my 1/48 AMK IAI Kfir C7, from the Arava Guardians Squadron, circa 1990. I used Master Metal Pitot and Aires seat, and the decals were OOB. The decals were actually quite nice, I had no issues with them at all.

The kit really fits nicely, and considering I had just built the Tamiya Tomcat previously, saying that means something. This is the very first kit released by AMK. It is not in the same league as the Tamiya Tomcat as far as fitment is concerned, but everything fit great except the nose assembly to the forward fuselage. There was a step on both sides that I had to deal with. For a first kit release, I would say AMK knocked this one out of the park!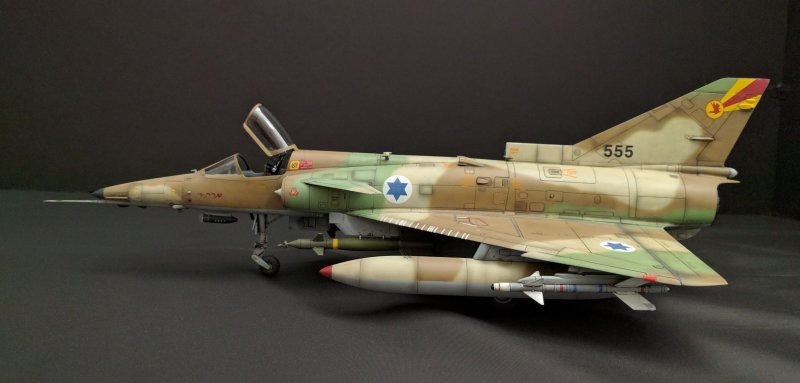 I am very happy with how it turned out, but there are a couple of things that I messed up. First, the green is too dark. I lightened the green I used (H312), but I should have lightened it more. Probably should have been a 60/40 green/white mix. The other is I forgot to add the mirrors to the canopy. I Have since fixed that, but no pictures after that update have been taken.

Here is what I used on this build:
Kit: 1/48 AMK IAI Kfir C2/C7

Decals: OOB

Aftermarket: Master Metal Pitot, Aires MB Mk.10 Ejection Seat

Paints: Gunze Mr. Surfacer Black 1500 (primer base), Tamiya White Liquid Primer (for pre-shade stippling), Gunze Aqueous H308 FS 36375 Light Ghost Gray (underside), Gunze Aqueous H310 FS 30219 Brown, Gunze Aqueous H312 FS 34227 Light Green, Gunze Aqueous H313 FS 33531 Sand, Tamiya smoke (post shading), and Alclad II Gloss Black Primer, Airframe Aluminum, Burnt iron, and Jet Exhaust. Future Gloss coat for decals and Future+Tamiya XF-21 Flat Base 6:1 ratio for final matte coat. MIG Deep Brown for panel washes.
Michael Phillips
Click on images below to see larger images