Greetings from Aztec lands (Mexico City). Many times I have seen several models (planes), with a nice finishing on metallic colors. But a look like very clear. Surfaces very flats. No weathering, no contrast. I like it, breaking paradigms. I prefer a natural metal plane, very weathering and contrasted. For this project, I wanted to demonstrate, is not necessary to put different metallic colors, to create some tones among panels. On this technique, I show you, that using different colors like primer on your model, but painting one metallic color, You can got it. I used the Hobbyboss kit, supposedly an easy build. A very soft plastic, I had to add reinforcement for the wings and rudder. Is a regular kit, low to medium quality. The only good detail, into the model were the actuators on the laterals landing gate doors, no more. The kit was made almost out of box.

Only I improved a lot details on the kit, machine guns, general antennas, the pneumatics and interior cockpit, using the scratch. The steps are depicted on the first pics. I suppose, the result is good. So I bring you my personal version about this famous plane. This is a brief history about The Putt Putt Maru, the colonel Charles Henry MacDonals (November 1914- March 2002) was a United States Force officer and a fighter ace of World War II. He commanded the 475th Fighter Group for 20 months in his P-38 Lightning,"Putt Putt Maru", and become the third ranking fighter ace in the Pacific during WWII.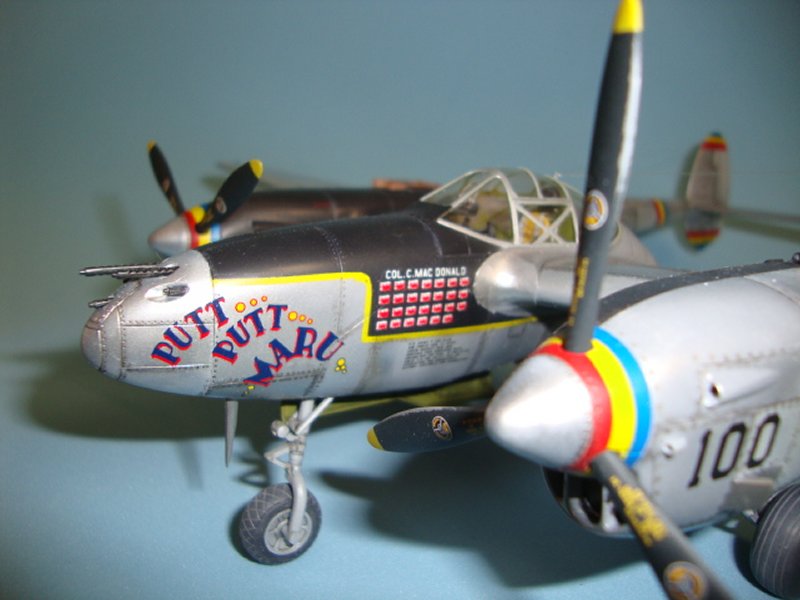 Kit Media: Injected Plastic.
Decals: Various Decals Sheet of Micro Scale.
Aftermarkets: None.
Paints: Tamiya Acrylics X-1,2 and 9, Customized Metallic Primer, Mr Color Super Metal Chrome Silver, Humbrol 150, Metal Cote Matt Aluminiun and different Black colors.
Coats: Glosscote and Sealer Metalizer of Model M.
Weathering: Oils.

Like always, I hope enjoy this work.
El Rey
Click on images below to see larger images