I am back to share another completed project, the 1/48 Hasegawa F-4G Wild Weasel from the original P4 boxing in 1984. I bought this kit from ARC Forums for very cheap, but it was already started though... the forward fuselage was brush painted and the cockpit had been partially painted. the intakes had been glued, then ripped apart apparently... so I had a little extra work to do when I got started. This build was OOB except for the decals. Total build time was about 3.5 weeks.

The Decals are Speed Hunter Graphics "SEAD SPECIALISTS" part one, which are printed by Cartograf and are excellent... with one small exception. There is an insert sheet that I do not believe is printed by Cartograf that included the "PN" and the upper fuselage "black lines" (really not sure what to call them). They were a bit trickier to work with than the rest, and the backing color is different. But overall this is a fantastic sheet. It is the first time using Speed Hunter decals and I look forward to doing so again.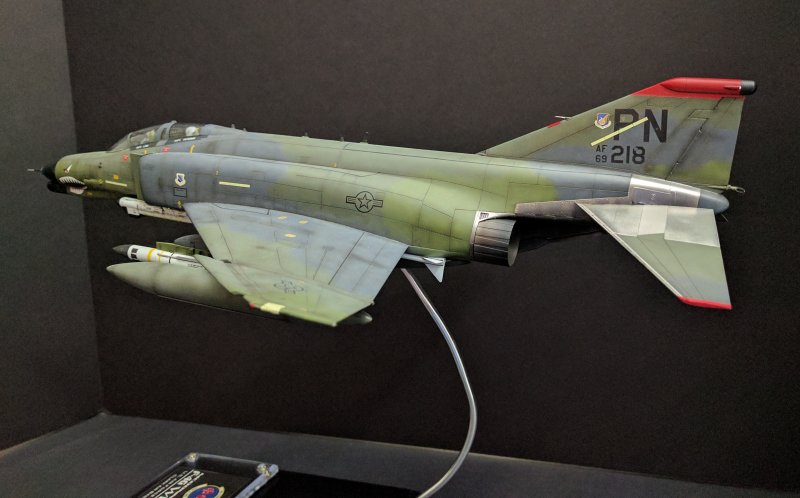 This kit is quite old, but I really enjoyed building it. If you want a long nose Phantom in 1/48, this kit is the best out there until ZM comes out with one eventually (hopefully). Despite having to fix some issues from it having bit started, everything went very smoothly. This kit is really quite easy to build. The intakes are basically a hole that is blocked off, so aftermarket intakes would have been nice but since I got this so cheaply and it was already started I didn't bother with that.

Here is what I used on this build:

Kit: 1/48 Hasegawa F-4G Wild Weasel P4
Decals: Speed Hunter Graphics "SEAD SPECIALISTS" F-4G Wild Weasel Phantoms, Part I
Aftermarket: None
Paints: Gunze Mr. Surfacer Black 1500 (primer base), Tamiya White Liquid Primer (for pre-shade stippling), Gunze Aqueous H340 Medium Green FS 34102 , H320 Gunship Green FS 34092, and Insignia Red H327 FS 11136 , Tamiya XF-24 Gray, Smoke, and Rubber Black, and Alclad II Gloss Black Primer, Airframe Aluminum, Aluminum, Pale Burnt Metal, Jet Exhaust, and Burnt Iron. Future Gloss coat for decals and Future+Tamiya XF-21 Flat Base 6:1 ratio for final matte coat. MIG Deep Brown for panel washes.
Michael Phillips
Click on images below to see larger images