I present to you my latest project, the 1/48 Great Wall Hobby MiG-29SMT Fulcrum-E, "Red 23" in the fantastic splinter camo of the Russian Air Force, circa 2010.

This is indeed a beautiful kit that goes together very nicely, with relatively few fit issues. One such issue, according to builds I had seen during research, are the intakes. But I kinda cheated... 1. I Did not install the full engines and 2. I modeled the FOD doors in the down position. By doing this and removing all of the locator pins on the rear trunking I was able to get the fit to be nearly perfect.

Aftermarket used were a Quickboost seat and Master pitot. The pitot gave me some trouble, as it didn't really fit the GWH nose. So I did a hybrid with the kit plastic and Master metal. I have actually already broken it once now, and looking at the pics it seems I did not get it perfectly centered on the plastic part. So I will need to fix that. I didn't even notice it in person, looks ok from any reasonable distance... but photographs tend to magnify things!

Decals are OOB, and they are actually quite good. No issues there whatsoever.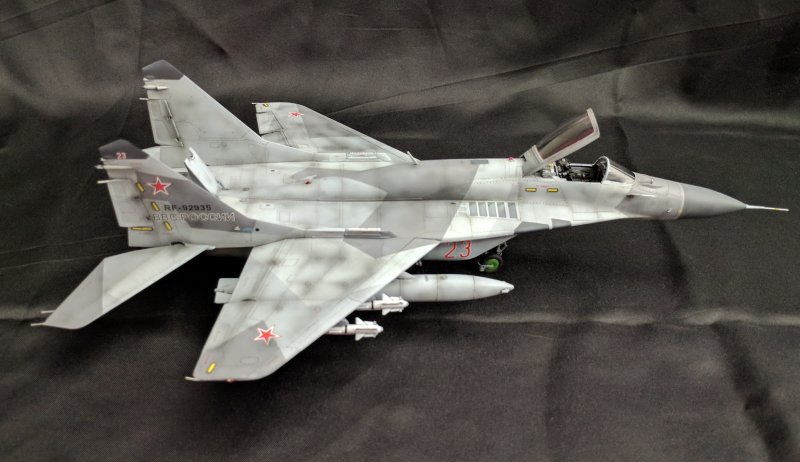 So, looking at pics I have seen the SMTs in states anywhere from pristine to absolutely filthy. I wanted to model mine somewhere in the middle. But it did kinda get away from me (LOL), and is a bit more heavily weathered that I originally set out to do. Oh well, that seems to be something I have to fight often, and will really need to be cognizant about going forward.

Kit: 1/48 Great Wall Hobby MiG-29SMT Fulcrum-E 9-19
Decals: OOB
Aftermarket: Master Model Pitot, Quickboost Seat
Paints: Gunze Mr. Surfacer Black 1500 (primer base), Tamiya Liquid White Primer (for marble coat), Gunze Aqueous H333 Extra Dark Sea Gray, H75 Dark Sea Gray, and FS 36320 Dark Ghost Gray , Mr Paint MRP-189 Traffic Gray, Tamiya Rubber Black, Clear Red, Clear Yellow, and Smoke, and Alclad II Gloss Black Primer, Hot Metal Violet, Hot Metal Blue, Airframe Aluminum, and Burnt Iron. Future Gloss coat for decals and Future+Tamiya XF-21 Flat Base 5:1 ratio for final matte coat. Mig Ammo Deep Gray panel wash.
Michael Phillips
Click on images below to see larger images