So here is my latest completed project, the 1/48 Hasegawa F/A-18C Hornet in VFA-86 Sidewinders CAG markings circa 2006. I was drawn to the large orange diamond on the spine, much like the old A-7s of the same squadron in the late 70s, so I knew I had to build my first Legacy Hornet in those markings. Soon I will build a Corsair in the same "diamond spine" style markings. The decals I used are from Afterburner Decals "Snakes on a Plane" sheet. These performed flawlessly like usual.

The kit itself is really nice, great detail and fit was quite good other than the intakes. That was a bit of a struggle there to align. The biggest issue I encountered with this build was self inflicted, however. A couple of weeks ago I had a long weekend off, and I decided I was going to try to finish the build that weekend, despite having a considerable amount of things to do. So I decided to skip the future coat step before decals, which I have never done before. Well, the decals went down ok (I did get some silvering I never get however), but the big issue was the wash. Man, it was a MAJOR pain to get that off, even with turpenoid. So I learned a lesson, I will not skip that step ever again!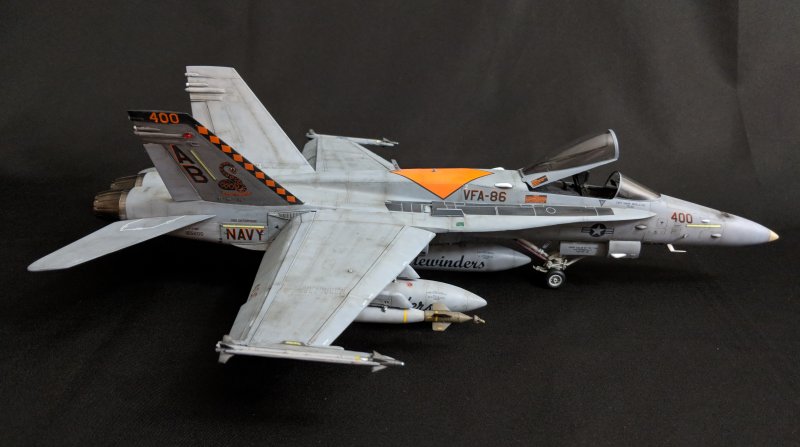 As far as aftermarket, I threw in a Quickboost seat and Aires closed nozzles. GBU-16s are from Hasegawa weapons set D, and AIM-9Xs are from the Tamiya F-16C Aggressor kit.
Now that I have built a Hasegawa Hornet, I will be interested to see how the Kinetic one compares.
Kit: 1/48 Hasegawa F/A-18C Hornet "Golden Dragons" boxing
Decals: Afterburner Decals "Snakes on a Plane"
Aftermarket: Aires Closed Exhaust Nozzles, Quickboost Ejection Seat, Hasegawa Weapons Set D
Paints: Gunze Mr. Surfacer Black 1500 (primer base), Tamiya Liquid White Primer (for marble coat), Gunze Aqueous FS 33613 Radome Tan, FS 36375 Light Ghost Gray, FS 36320 Dark Ghost Gray, Tamiya Rubber Black, Clear Red, Clear Green, and Smoke, and Alclad II Gloss Black Primer, Airframe Aluminum, and Burnt Iron. Future+Tamiya XF-21 Flat Base 6:1 ratio for final matte coat. Mig Ammo Deep Gray panel wash.
Michael Phillips
Click on images below to see larger images