I present my latest completion in 1/48th scale: Great Wall Hobby's MiG-29 9.13, or the C model of the fierce Fulcrum. This is my second MiG-29 on the shelf, what can I say, Iím a big fan of the MiG-29. The C model is a tuned up 9.12, or the A model. The biggest difference is the larger dorsal spine on the airframe.

For this build, I opted to replicate an aircraft that is in service with the modern Russian Air Force, or VVS. I selected a unique version, one from a unit based outside of Russia. Under agreement signed between Russia and neighboring Armenia, the VVS has several MiG-29 9.13s from the 3624th AB based at the air base in the city of Erebuni, where they serve in a QRA role. Several of these aircraft have the the images of revered Russian saints painted on the starboard side beneath the cockpit. For this model, I chose to replicate aircraft Red 23 with the painting of Dmitri Donskoii on the starboard side, with the decals offered by Linden Hill. From all of my research into this unitís service, I observed that all the aircraft are all fitted with only four hard points, for four missiles. As much as I like a fully loaded Fulcrum with a six pack of missiles, I chose to stick with the plan and replicate the one that I was researching.

This is my first GWH kit and I was very impressed with the details and the ease of construction. Having a full top and bottom fuselage with wings is definitely the way to go with an aircraft of this aerodynamical design. I also purchased the vertical stabilizer reinforcement plates, also offered by Linden Hill. These plates are on all 9.13 models. Construction was smooth and trouble free, with the exception being the well documented poor fitting rear engine cowlings. I did have some issue with the main landing gear bays fitting properly as well. The multi-piece exhaust nozzles to me were not impressive so I got my hands on the exhaust set offered by North Star Models.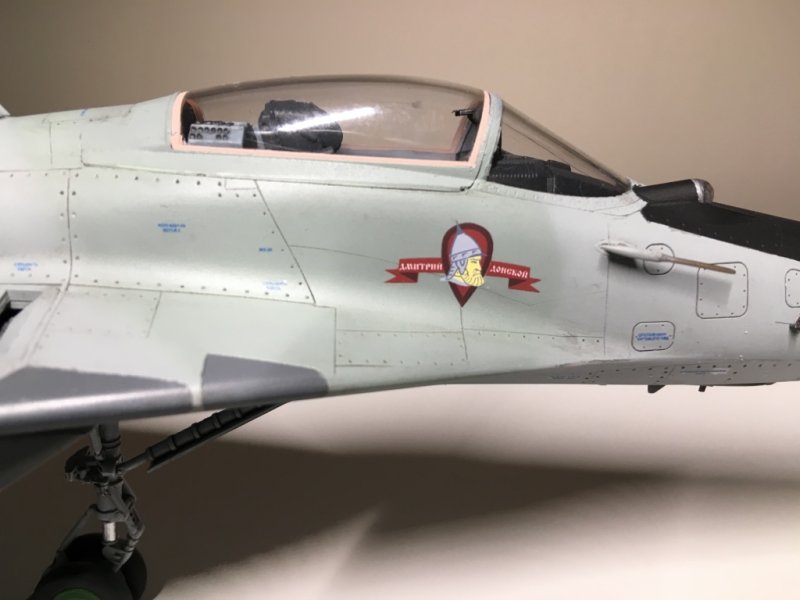 Painting began with a coat of Alcald 2 Black Primer, which was then sanded with fine grit sand paper to smooth out the surface. The two tone grey and grey green camouflage was a challenge. Initially I went with AKAN colors for the MiG-29, but found them to be too dark when I received them. I then chose MRPís Light Grey and Light Green Grey for MiG-29 (MRP 91 and 92, respectively). The Light Grey was spot on. The light green grey however looked more neon green. I then determined that MRP 285 Light Green for the MiG-29 SMT was much closer. That turned out to be too light. I then tried AKAN 73093 Grey Green from the aforementioned AKAN set. Too dark. Feeling ambitious, I tried a technique that I have never tested before. I sprayed all of the greenish areas with the AKAN grey green, then faded them out with MRP 285 Light Green. The results to me were awesome in every way. The radome and dielectric panels were painted with a mix of MRP 289 Dark Grey and MRP 354 Russian Air Superiority Grey. The pink area around the canopy, found on many types of VVS aircraft, is MRP A024 Russian Cockpit Sealant. After that it was a dark grey panel line wash and decals, with the appropriate Alcald Gloss Klear coats in between. A the last minute I decided on the stencil sheet for the MiG-29 offered by Begemot. For the most part, they were nice. However, especially for the smaller markings, the carrier film was not completely on top of the decal, so I lost about half of the affected decals during placement. Also, despite several applications of decal setting solution, some silvering did reveal themselves after the final flat coat was applied. But I only need one hand to count those. The final step were the nozzles. Those were paint with Model Master Metalizer paints, and Tamiya Weathering Master dust set D, to achieve the multi color nozzle feathers that are found on the MiG-29. The final steps were adding on all of the bits and pieces then onto the shelf it went. I am most satisfied with the paint scheme above everything else. I hope you have enjoyed this read and the photos. Good luck
Jay Vlad