Hi all!
I would like to share my latest completed project, the 1/48 Great Wall Hobby F-15C from the MSIP II ANG boxing. I decided to build it in the fantastic splinter camo markings of the 65th AGRS circa 2013. The camo was done without a mask, using Tamiya tape and just kinda eyeballing it. I started by painting the gray, then masking and painting either the white or blue areas one at a time. Some areas were easier to paint the white over the blue, and others the blue over the white.

I used some aftermarket on this one, including a Quickboost seat, Meng CATM Aim-9M from the short range weapons kit, and the ELTA-8222 and ACMI pods from the Meng long range weapons set. For decals, I actually had three options to choose from, the Two Bobs "Digital Flanker" set, Afterburner "65th Aggressors" sheet, and the Speed Hunter Graphics "Elegant Eagles" sheet. I wanted to do Blue 94, so that eliminated the Afterburner sheet which does not include that option. Between the Two Bobs sheet and the SHG sheet, the color saturation and stencils were nicer on the SHG sheet, and being Cartograf printed sealed the decision for me. This is the second time using SHG decals (F-4G was the other), and they performed fantastically once again. Big fan of their products!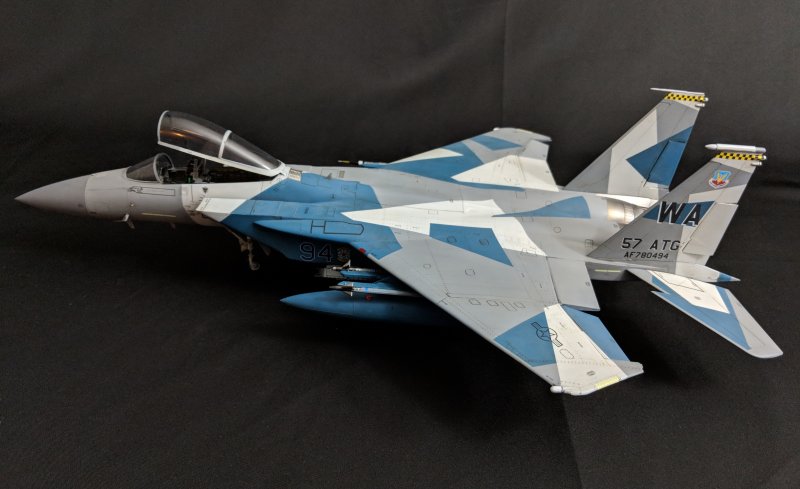 The GWH kit is much lauded, and for good reason. It is just a fantastically detailed kit, and fit is generally excellent throughout. Rear fuselage and intakes take the most care, but nothing major to note.

Here is what I used on this build:

Kit: 1/48 Great Wall Hobby F-15C Eagle MSIP II ANG boxing
Decals: Speed Hunter Graphics "Elegant Eagles" sheet
Aftermarket: Quickboost Ejection Seat, Meng Short-Range Weapons Set, Meng Long-Range Weapons Set
Paints: Gunze Mr. Surfacer Black 1500 (primer base), ModelMaster FS35109 International Blue, Gunze Aqueous FS 36118 Gunship Gray, Mr Paint FS 36251 Aggressor Gray and FS 36628 White Gray, Tamiya Rubber Black, Clear Red, Clear Yellow, and Smoke, and Alclad II Gloss Black Primer, Airframe Aluminum, Pale Burnt Metal, and Burnt Iron. Future Gloss coat for decals and Future+Tamiya XF-21 Flat Base 6:1 ratio for final matte coat. Molotow Liquid Chrome also used. Mig Ammo Deep Gray panel wash.
Michael Phillips