With the acquiescence of American President Kennedy, Cuba became the recipient of the new Soviet SA-6 'Gainful' surface-to-air missile. The crisis over the previous placement of surface-to-surface ballistic missiles had been averted by their removal, but the new defences brought an increased level of concern in the region. France had strengthened its air capability with the purchase of the Douglas A-3 Skywarrior, and Britain was also making preparations. The first choice of the government was to provide assistance to the newly independent Jamaica, which would lessen the logistics of having a large British presence in the area.

Jamaican Prime Minister Alexander Bustamante was at first reluctant to take sides in the matter, as he had always been a fierce supporter of Jamaican independence. Public assurances from Britain that his nation's affairs would always be respected, and that no alliance was to be inferred, persuaded him to accept the offer of military equipment, and aircraft were a priority. The fast and capable English Electric Canberra was an obvious choice; it's versatile ability to penetrate air defences at all levels, combined with a significant punch, meant that it was an ideal deterrent. An initial supply of 20 Canberra B2s were quickly despatched to the island, with 12 based at the airport in Montego Bay, and 8 at the former USAAF base at Vernam Field, on the south coast.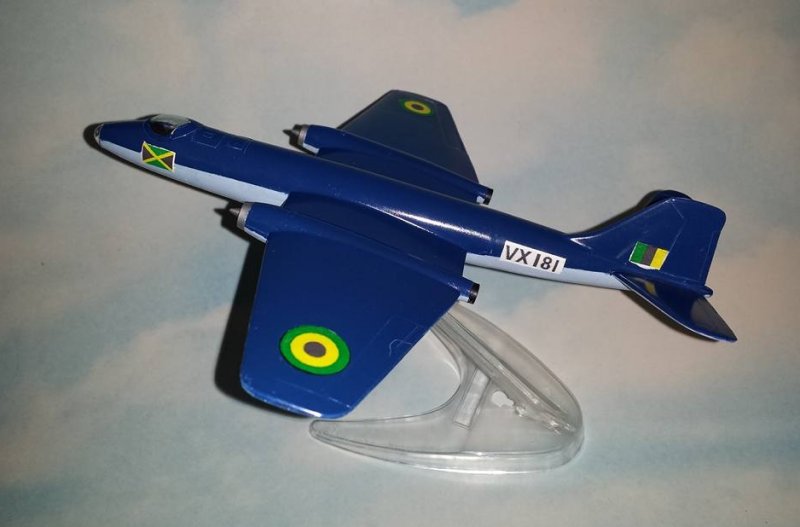 The principally maritime operations dictated a naval style of camouflage, and this was applied on their arrival. A two-tone blue was chosen, dark on the upper surface and light on the lower. In order to make the fuselage serial numbers stand out against the dark and light camouflage, they were applied in black on a white rectangular background. Jamaican flags were painted under the cockpit.
"The Rat"