I guess you're all familiar with the MiG-15. Quote from Wikipedia: "the Mikoyan-Gurevich MiG-15 (Russian: Микоян и Гуревич МиГ-15; USAF/DoD designation: Type 14; NATO reporting name: Fagot) is a jet fighter aircraft developed by Mikoyan-Gurevich for the Soviet Union. The MiG-15 was one of the first successful jet fighters to incorporate swept wings to achieve high transonic speeds. When refined into the more advanced MiG-17, the basic design would again surprise the West when it proved effective against supersonic fighters such as the Republic F-105 Thunderchief and McDonnell Douglas F-4 Phantom II in the Vietnam War of the 1960s.

The MiG-15 is believed to have been one of the most produced jet aircraft; in excess of 12,000 were manufactured. Licensed foreign production may have raised the production total to almost 18,000. The MiG-15 remains in service with the Korean People's Army Air Force as an advanced trainer".

The MiG-15 came in many variants and a little known one is the MiG-15 "Ohkotik Podderska letayushchiy Radio" or MiG-15 OPLR. It was seen by NATO observers in company with other MiG-15 and later -17's and was mistaken for a fighter, hence the callsign starting with F.
It was actually conceived as a "hunter" airborne radarstation over the vast Russian skies co-working with "killer" team MiG-15 and later MiG-17's like a wolfpack. So it wasn't a fighter in true essence. Although tried for some time with continuous improvement of the airborne radar, it had limited radar capabilities and was too slow for contemporary fighters. So, the concept was abandoned.
Pictured is a MiG-15 OPLR of the PVO-Strany, Magadan-13 (Magadan area), October 1955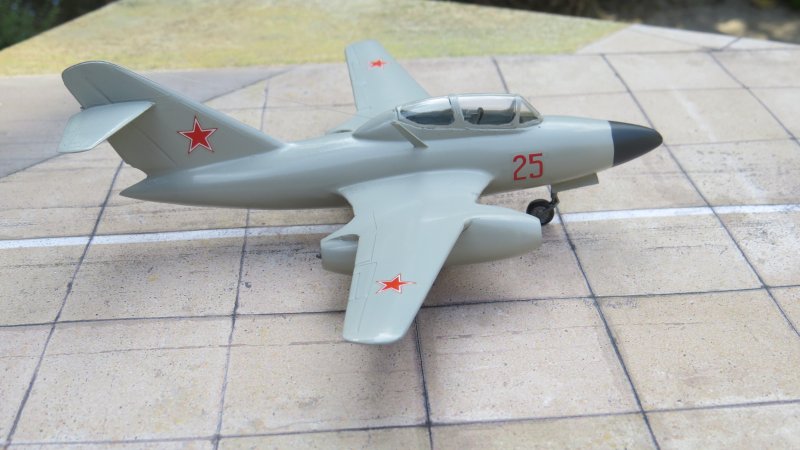 This is actually a reworked KP MiG-15 UTI, replaced the wing with an ancient Revel Me-262 one (incl engines). Radar nose was created by a reshaped Airfix F-4 one and rear cone was made from the tail section of a droptank.
"63CPE"