F-89J Scorpion 59th FIS, Goose Bay AFB, Labrador (1957)
It has been more than several years since I submitted my first F-89 Scorpion build to ARC, that one being an 'H' version. I herewith submit my second ARC Scorpion build, a F-89J version, historically the last one built by Northrup, the designer and builder of the jets. Curiously, though, there weren't any F-89Js "built" from new pieces of aluminum, steel, rubber, etc., components. Instead, all F-89J aircraft were reconditioned F-89Ds, done to save money.

The 'J' version did away with the less than effective 2.75 in. FFAR wing tank pods, the ones that spewed out up to 104 fin-folded rockets (52 per wing pod) to bring down enemy bombers, much like an airborne shotgun. The 'J' relied on more reliable Falcon air-to-air missiles, and/or Genie miniature nuclear missiles, designed to explode in an area containing enemy aircraft (public health problems from radiation fallout was not fully appreciated back in the 1950s).

I had a straightforward build. This was a 1990s release, from Revell Germany, which have incorporated latest modeling mold improvements, vastly improved from earlier, non-German origin, releases. Revell has always provided decent, even market edge cockpit components, with molded cockpit seat cushions and seat restraint straps: there was little for me to gain by purchasing alternate cockpit kits. Also, Revell must be commended for adding the different rear RIO cockpit layout: that person had an alternate instrument panel from that for the pilot, a control hand stick on the right console, and a clear canopy piece termed a "blast shield", per references consulted: Because the 'J' model carried a small nuclear bomb missile (Genie), it was believed the RIO could be adversely affected by the blast effect, depending on proximity to the blast.

The only after market item I employed was Bare Metal Foil (BMF), in basic high polished chrome and matt aluminum condition. As I mentioned in a previous build using BMF, one can get intermediate shades of bare aluminum by varying the amount of polishing on the applied pieces. I prefer using Q-tips, but a soft cloth is another suitable material one can use.

I used the kit decal sheet for my build, depicting an aircraft with serving with the 59th Fighter Interceptor Squadron, based in Labrador, in 1957. The 59th markings were eye-catching, and I did not find that unit marking when looking at after market decal sheets.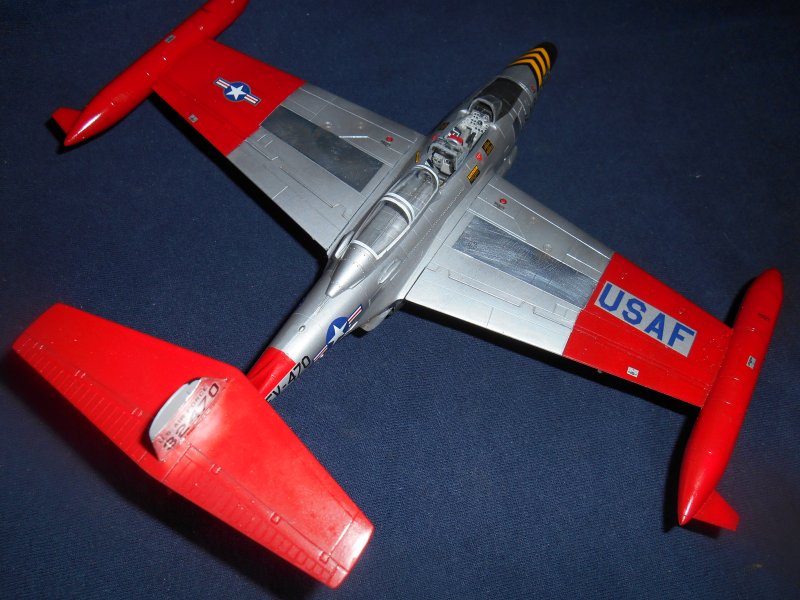 On a final note, I've always maintained a serious modeler should have references on hand for what he intends to create. In this case, the aircraft in question did not have the inner half of the wing tanks painted black (to retard glare that could distract the pilot). Secondly, whereas the 'J' variant was first released with three wing pylons on each side - two for Falcon missiles, one for the Genie missile - in actual use only the Genie was carried, as the extra weight of the Falcons made a mockery of the F-89 as being an 'interceptor; the two inner pylons on each side were removed. Third, not all 'J' model F-89s were painted aircraft gray; the earlier built (from 'D' model aircraft) ones still employed the characteristic red painted extremities. It took a while to make the 'J' fleet uniform in appearance.
Carl Jarosz