Su-30MKM Flanker-H - Keeper of KL
Well, it's that time again... Another finished project! This time it is the 1/48 Hobby Boss Su-30MKM Flanker-H conversion from the base Su-30MKK kit using the Naza Model Art MKM conversion. The Su-30MKM is the Malaysia specific variant of the Su-30, based off of the Indian Su-30MKI. It has canards and thrust vectoring exhaust in common with that aircraft, however there are many things that make the MKM unique among Flankers. It utilizes western avionics from France and South Africa, and many features not seen on other Flankers. The twin-seat canard Flankers are among my favorite aircraft, however there is no kit in 1/48 of these variants (Su-30SM/MKI/MKM/MKA).

Thankfully, the somewhat recently released Hobby Boss Su-30MKK gets you close, and the Naza Model Art conversion kit gets you ALMOST there. I also needed to do some scratchbuilding of the IFF "bird slicers" and a few other little things. I also need thrust vectoring nozzles, so for those I used the AMUR Reaver TV nozzles, which are really nice. I also used Fishbone Decals for the decals.

The Hobby Boss kit is really quite nice. Great detail, and the fit is nearly perfect. Easy to build, it is really a simple kit. There are some inaccuracies in this kit, but they do not bother me too much. The Naza resin is very nice, and fit the kit quite well once the necessary plastic is removed. This was the first conversion I have attempted, and I must say I was quite apprehensive about attempting it. But I decided to just dive in and do it, and came away relieved and rewarded. I actually enjoyed it, and am glad the conversion parts fit well.

I am no longer afraid of doing another in the future. I also used a Master Model Pitot, L'Arsenal Damocles Pod, and NeoMega Ejection Seats. There are a few small inaccuracies with this build, mostly with the cockpit IPs. But overall it is pretty close.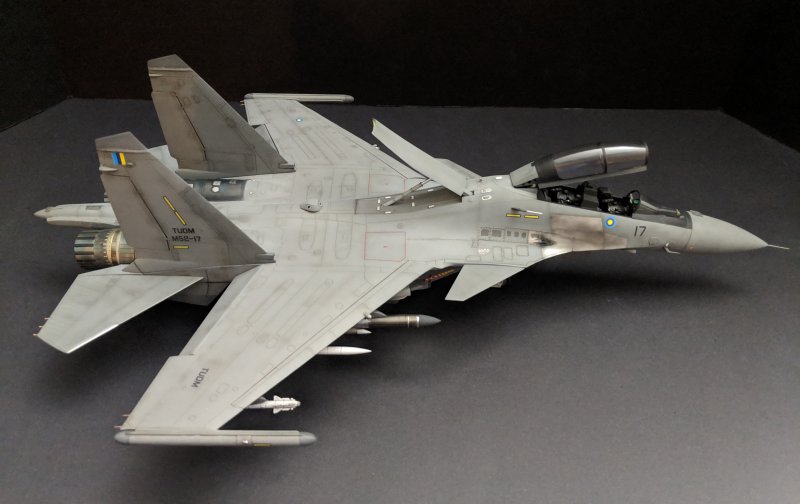 Here is what I used for this build:
Kit: 1/48 Hobby Boss Su-30MKK no. 81714
Decals: Fishbone Su-30MKM Royal Malaysian Air Force
Aftermarket: Naza Model Art Su-30MKM Exterior Conversion Set, A.M.U.R. Reaver Thrust Vectoring Nozzles, L.Aresnal Damocles Pod w/Nahar Pylon, NeoMega K-36DM Seats, Master Model Pitot Tube
Paints: Gunze Mr. Surfacer Black 1500 (main aircraft primer base), Tamiya Liquid White Primer (for marble coat), Mr Paint MRP-090 Lemon-Gray Russian aviation primer and MRP-181 Light Gray, Gunze Aqueous H335 Medium Seagray, and H331 Dark Seagray, Tamiya Rubber Black, Clear Blue, and Clear Yellow, Gunze Mr Color GX2 Gloss Black (gloss black primer for metalwork) and Alclad II Airframe Aluminum, Pale Burnt Metal, and Burnt Iron. Future Gloss coat for decals and Future+Tamiya XF-21 Flat Base 6:1 ratio for final matte coat. Mig Ammo Deep Gray panel wash.
Michael Phillips
Click on images below to see larger images