P-51B Mustang 52nd Fighter Group (15th AF)
Okay, I admit it: I'm in a rare 1/72 scale WWII aircraft modeling phase. My opinions about assembling small scale kits, which I laid out in my recent P-40N article (see Gallery section), still hold true, but in the last decade or so the plastic model makers seem to have put belated efforts into improving the quality of these small scale offerings. In short, it truly is a blessed time to be alive if one desires to build 1/72 scale and smaller size kits.

I gave Special Hobby their kudos in my P-40N article. I now give the same praise to Academy for the way they molded their P-51C kit. The instruction booklet was not glossy nor colored. It was, however, complete and clearly showed all parts that were used in the build and had a comprehensive list of colors for painting, even listing the FS (Federal color code) numbers where applicable. The kit could easily build a P-51B variant, though, which is what I did, as the externals were basically the same. At the same time, this kit limits one to only build the 'B' or 'C' variant.

I won't belabor the history of the famous P-51, as virtually every modeler knows (or should know!) how important the North American P-51 was to winning the air war over the Axis powers. I purposely painted and decaled the kit to represent an aircraft that served with the 52nd Fighter Group, which fought from North Africa into Italy during WWII. The 52nd planes were characterized by either a fully painted yellow empennage, or a wide yellow fuselage band, with different color cheat lines on the edge(s) of the yellow area.

I built the kit basically out of box, but I made seat and harness straps from masking tape cut to scale size. Weathering was minimal, with mainly engine exhaust stains and gun powder residue on the wings, using black pastel for these details; 15th AF aircraft in natural metal finish were well maintained from photos consulted. I also cut several pieces of bare metal foil (BMF) and applied them to selected wing leading edge sections, to represent recently replaced parts of the wing that had suffered damage in flight or combat (leaving dented/cracked leading edge sections would have seriously impaired flight characteristics and fuel economy on long range missions).

I used human hair again to rig the antenna wire. It had the right scale diameter, which is to me very important, as I've seen some oversized thread on finished models that would have been classified as cables on the real aircraft.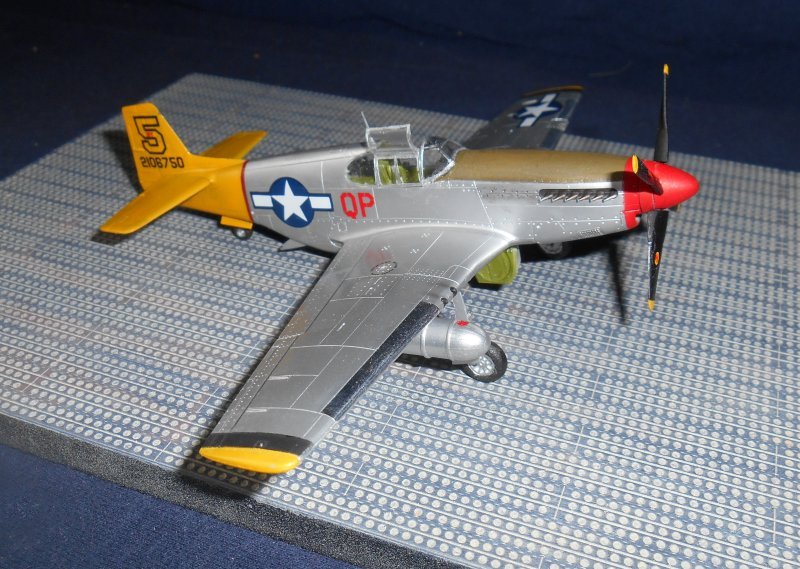 I used the same base plate I used for my P-40N submission: a 1/72 scale section of the steel matting that allowed quick construction of an airfield out of an undeveloped piece of ground. The matting was widely used for Italian airbases when first constructed (the concrete came later).
Carl Jarosz