This is my 1/32 Tamiya De Havilland Mosquito that I finished about a year and a half ago. I cannot say enough good things about it. The kit is very well engineered and fits together seamlessly.

Because the detail is so exceptional, I did not see the need to use any aftermarket sets and built it completely out of box.

The kit features removable engine cowlings and panels that are held in place with tiny magnets. If the engines are installed and aligned correctly, these fit perfectly. I did make the effort to build and finish these panels, but I leave them off to display the highly detailed engines.

Model Master enamels were used almost exclusively for paints, and Alclads were used for any metallic finishes. After the paint cured, a coat of Future (or Pledge, or whatever it's called lately) was applied to prep for the decals. The kit decals were used, and these are the one area of the kit that I think could have been better.

The decal film is VERY thick, and applying them on any uneven surfaces proved very challenging. They required numerous applications of MicroSol to get them to conform over any raised rivets or other surface details.

Fortunately, the Mosquito was constructed primarily of plywood, so it doesn't have many panel lines. This makes the overall surface of the model relatively smooth.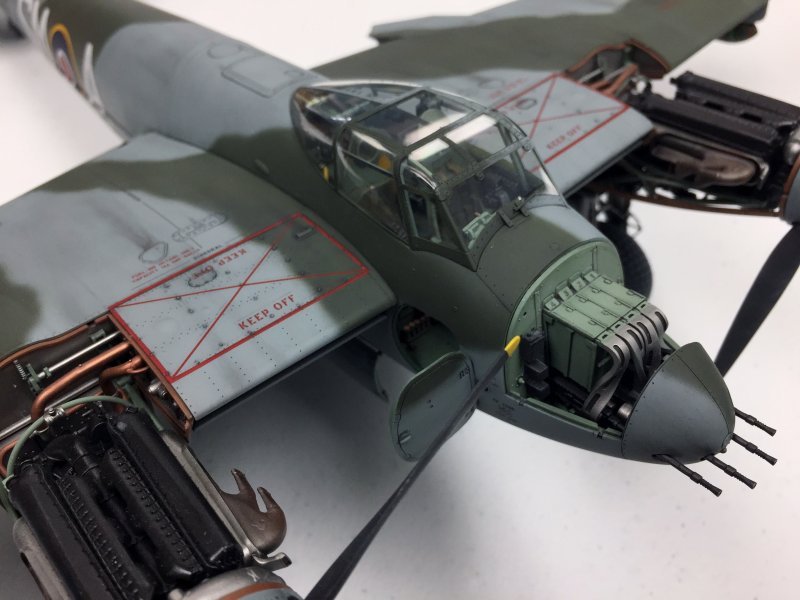 The kit took me about a year to build, and I can not be more pleased with the results. Tamiya outdid themselves with this model, and there is no other kit that I have built that had better fit or superior engineering. I cannot recommend it more highly.
John "Johnnymac" McCormick