Boeing 737-300 Western Pacific Airlines "Colorado Tech" Livery
I'll always be a sucker for the eye-catching livery used by our nation's air carriers (e.g. United, Eastern, Western, Delta, et al.). That said, here is my latest airliner build, of a Boeing 737-300, used by Western Pacific Airlines ('WP,' now defunct) in the 1990s. Per my previous article of a 737-300 WP build, using a different Colorado theme (the town of Crested Butte), not only Colorado towns, but additional state institutions, teamed up with Western Pacific Airlines to advertise using 737s, with colorful scenes.

Daco Products, Ltd., a company out of Belgium, has been the only decal maker I've found with the unique WP/Colorado decals. They teamed up with Skyline Models, which injection molds a 1/144 Boeing 737-300 that fits the decals like a glove. That, plus the 737-300 Skyline Model has more molded detail than the commonly found Minicraft 737 kit. The Skyline design also allows one to pitch the rudder in either direction. I pitched mine a little just to give a slight break in view. I had to watch the amount of pitch, however, as the overlaying decal has to be cut along the rudder edge to allow adherance to the rudder and vertical stabilizer surfaces. If not done carefully, one could have a ragged decal edge that cannot be repaired.

Every Daco decal sheet has a list of colors needed to build a replica of what's purchased. As with my first Daco build, the colors on the aircraft could not be purchased from one's local hobby store: either one has to mix their own respective color shades, or break down and purchase the already mixed colors from Daco. I chose the latter, arriving in a Humbrol type tins. One other important point: Daco sells its own paint thinner, which I strongly urge one to purchase, as it greatly facilitates paint drying on the model. Future should be applied to seal the paint, as it tends to rub off the plastic if handled often in an unprotected state.

I wrote in my previous Boeing 737-300 build that I had a nightmare applying the broad Daco decals for that advertised town. I'm happy to report that this build, as it advertises a learning institution, mercifully has no elaborate decal design that had to wrap around multiple fuselage curvatures. Just pay attention to the final appearance and decal application, as sections of one decal can - and will - overlap parts of a previously applied decal, which could ruin the final appearance.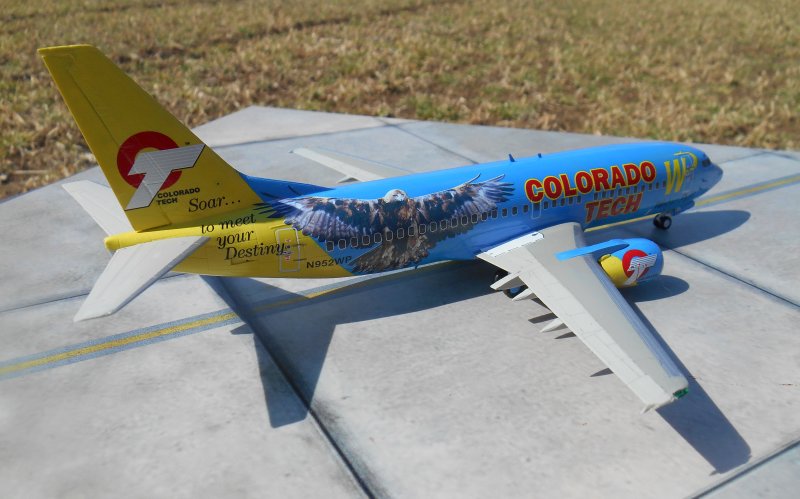 Finally, I strongly recommend buying Daco's own decal setting solution, as using MicroSol left a film on the painted model outside the decal area; I had to re-sand and re-airbrush the color on the affected area to eliminate the marking. Using MicroSet, however, had a beneficial effect on decal placement, without any adverse effect.
Carl Jarosz