In the late 70s, Rockwell proposed a supersonic VTOL fighter using a thrust augmented wing in which thrust would be directed through various spaces in the wing and canard. NASA tested the concept and found design to be lacking.

Rockwell was able to convince the government to continue building and completed one prototype. The only flying it did was in a giant test rig.

As there is not 1/48 kit, I had to go with the kitbashing/scratch build route. Anigrand does a 1/72 kit, but it is shaped more like the mock-up/service model. I had to use some basic drawings and research a lot of photos to get the unique shapes with the actual prototype aircraft. The XFV-12 used parts from an A-4 and F-4, so that is where I started. The front portion is a Monogram 1/48 A-4 Skyhawk. The nose was extended using a drop tank. For the fuselage, I used a Monogram F-4. In order to get the appropriate dimensions, I had to split the fuselage down the middle to get the right width. After grinding the length, I added parts of plastic with Milliput. The bulge for the exhaust venting along the fuselage was added with a brass tube. I made intake ducting to the engine face and plastic strips for the top intake. As the wing box for the aircraft was from an F-4, I was hoping to use the Monogram's; however, that didn't work. I scratched the entire wing area. For the main gear bays, I used an Aires A-4 set as the XFV-12 used the A-4 landing gear. The shaping is around the wing pods is Milliput. Wings were angled and attached with a screw (thus the need for the wood piece in the fuselage). Everything was mated and Milliput and plastic strip used to shape the unique areas.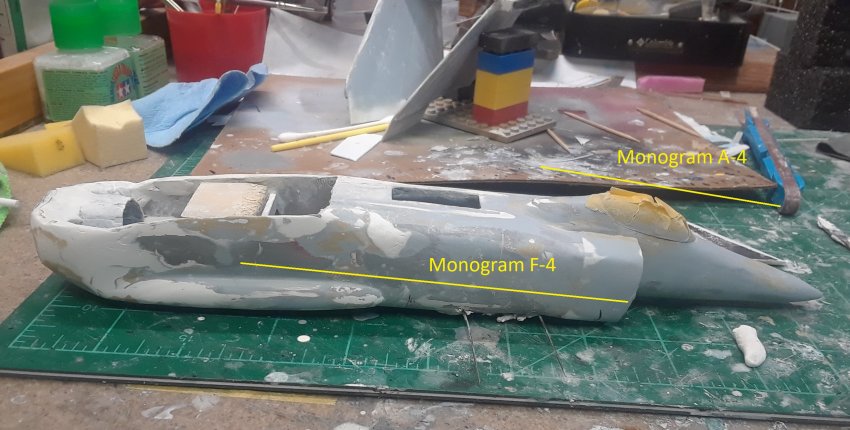 Once everything was sanded and shaped, I painted the base using Mr Color Cool White and Insignia Blue. The markings are all stencils and tape. I used decals for the national markings only to give a slight difference with the insignia blue. As the kit is a heavy 15-16 oz, I decided to use metal gear.

The SAC gear worked fine in the nose, but the mains sat a little low. I scratch built some gear using a nail and soldered the bottom portion of the SAC gear. The outer ring of the exhaust was made with an old F-14 exhaust.

The inner portion was made with Miliput and plastic dome similarly shaped.
George Salerno