One of Soviet Russia's WW II fighters, that probably wouldn't have seen the light of day if it weren't for the urgent requirements of wartime.

The LaGG was designed by Lavochkin, Gorbunov and Gudkov (hence LaGG), and was planned keeping in view the wartime shortages of metals. It was therefore made out of a special phenol soaked wood that was extremely resistant to fire, and its initial specifications promised to be better than the Bf-109 in performance. The production aircraft were a different story though, and though 6,500 examples were built, it remained a work in progress throughout, with 66 different series being built. The performance was never too good, though some Soviet aces flew it successfully and scored a fair number of victories. The design evolved eventually into the La-5 and La-7, which were far better and a match for their Luftwaffe rivals.

The Roden/Toko kit is a mixed bag - it comes with parts on the sprues to build multiple versions, and the detailing is very nice, with recessed lines. Clear parts are nice and clear. The downside is that the fit of the parts is extremely poor, and a lot of cutting, filing, sanding and filling is involved just to get the parts together.

Unfortunately, some details are lost in this process.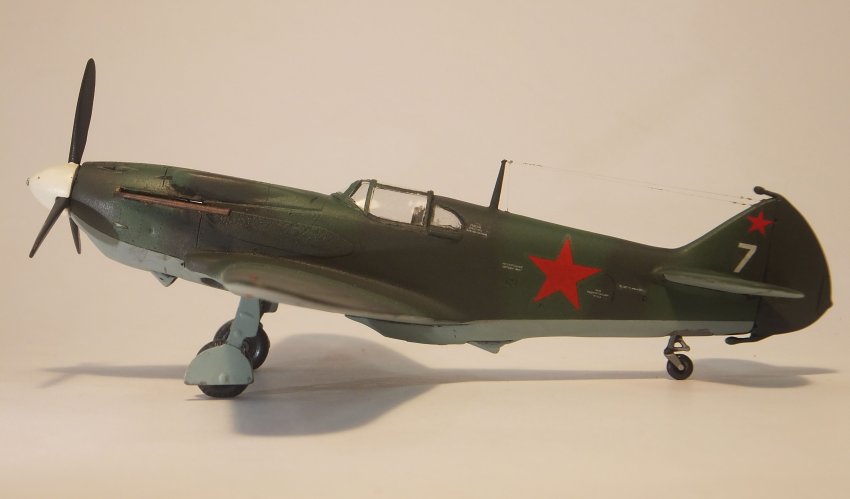 I built this over 3 weeks, working off and on. It's made OOB, as an early series LaGG-3. This particular example didn't have a very distinguished career - it was abandoned by the Russians, and captured intact by the Germans. Painted with Italeri, Revell & Vallejo acrylics.
Bob TheDoc