Messerschmitt Bf 109 F-2 (Special decoration)
From 1940, the Bf 109 was heavily revised at Messerschmitt and equipped with the DB 601E with 1350 hp engine. For this purpose, especially the aircraft front was clearly unconstructed. The transition from the larger propeller spinner to the hull was seamless. The support struts disappeared on the tailplane. The main wings received round end curves. A round air intake and wider surface coolers complemented the altered image.

The Bf 109F-1 was built from autumn 1940 in 206 copies. Then followed by the Bf 109F-2. This had as a main armament a 15mm MG 151. 1233 planes were built. By the way, the rear fuselage was reinforced from the outside up to the F-2 Version. After that, the reinforcements were done from the inside.

The Zvezda kit was the second of the so-called 1:72 Snap Fit Series. In the box are two light gray injection molded parts with 41 individual parts, a transparent pulpit, the decals and the good construction manual. There are fine submerged structures. Unfortunately, there are also sink marks on the hull.

The items look very good. Despite the summary of the components, there are a lot of details. For the cockpit, there is also a pilot who is composed of three parts. The instrument panel can be painted or decorated with decal.

The wings and rudders have sharp trailing edges. The exhaust bars are clicked. The propeller is one-piece and looks pretty good.

You also miss some small parts. So missing the typical balancing weights among the ailerons, I have supplemented these from the spare box. For an F, I also miss the typical round landing gear shafts. There are thin main landing gear flaps.

The decal sheet is from the Carson ( in Germany without swastikas). There are a few maintenance notices and the print is impeccable.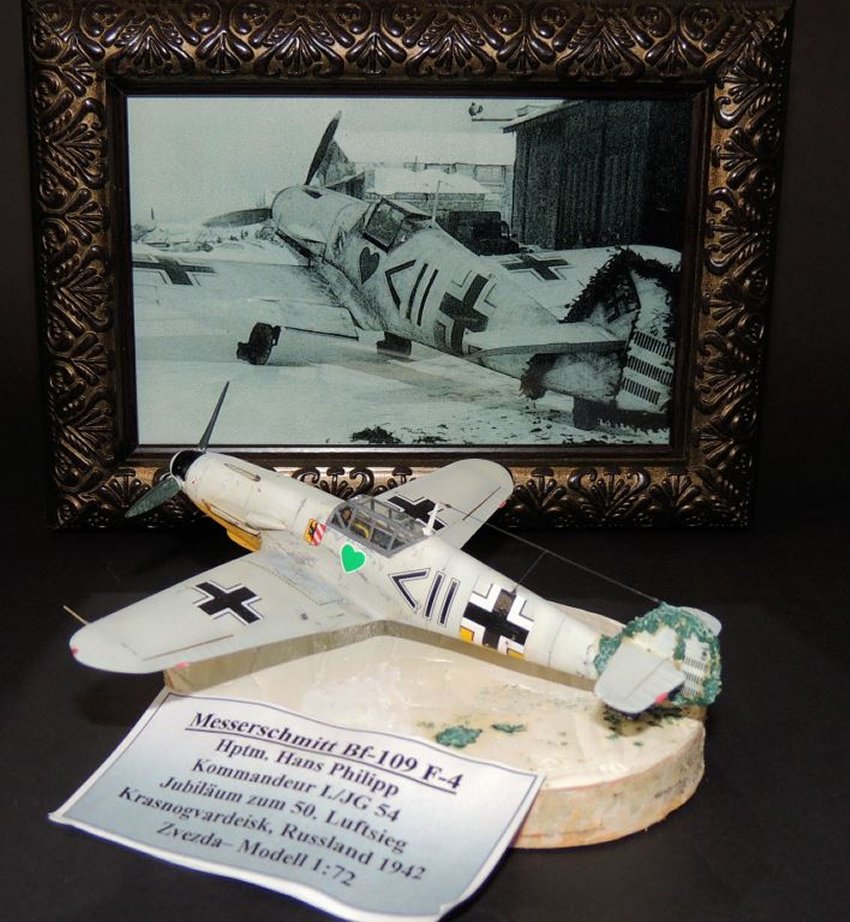 Versions:
Bf 109F-2 black 7, 15./JG 51, eastern front in the Orel area, June 1942;

Bf 109F-2, by Captain Hans Philipp, Staff I / JG 54, Eastern Front in March 1942.
I built the plane of Hptm. Philipp, as I found a good shot on the internet showing a special decoration for the 50th kill. The tail is decorated with a fir garland, which I tried to replicate. On the photos I noticed, that I wrote F 4 instead F 2. My fault!

As usually I paint with a mixture of Revell Aqua Paint and Vallejo Acrylics.

The main thing was the typical for the Russian mission area washed-out appearance of the aircraft. All winter colors are painted above the regular camouflage. But as you can see on the original photos, the white was really solid.

Conclusion:
A good, nice and simple kit of the Bf 109F. For little money and also for beginners highly recommended. For more details there are numerous supplementary sets from various manufacturers.
Gerd Wilcken