Kfir C2 (Conversion into a Fuerza Ačrea Colombiana C-12)
Since I had already presented here a Colombian TC-10 of Wingman in 1:48, it teased me for a long time to build a Colombian Kfir in 1:72.

The 2019 reissue of the good old Kfir C-2 from 1987 (Italeri etc.) by Revell was now a good time to do so.

12 Kfir C2s were sold to Ecuador in 1982, and another 11 went to Colombia in 1988-89. Both export customers also took delivery of a pair of TC2s.

Virtually all surviving Kfirs were upgraded to C-7 and TC-7 standards.

During 1993, Israel began seeking export customers for its surplus KfirC2 / C7s, and to this end, IAI announced further upgrades to the C-10 / TC-10 / C-12 and Kfir CE. All these versions benefit from IAI Lavi technology, more external fuel and load capacity and new radar in enlarged radomes.

In 2009, IAI send the first batch of upgraded Kfir to Colombia, including C10 and C12.

The kit still looks very good because it has very few and very small burrs.

The cockpit is quite neat and the landing gear wells as well. The remaining parts, as well as the clear parts, look very good.

From the Revell decal sheet for the Israeli version, I have only used some maintenance instructions.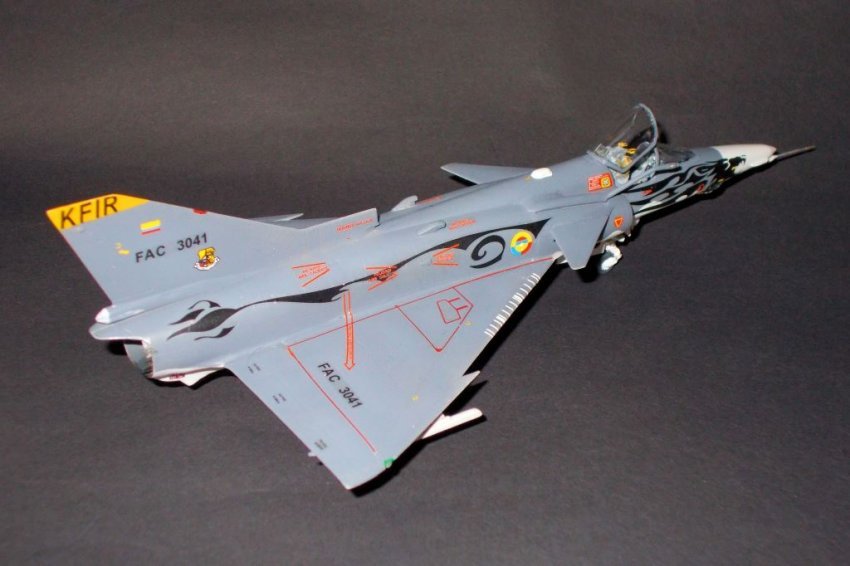 For the Colombian version of the Kfir are some deciding changes:
The air refueling probe attached to the starboard side (which I built scratch)

The one-piece front hood (remove the struts and polish, polish...)

The replacement of the ejection seat by a Martin Baker MK.6

Various antennas and probes.
For the decals I used the excellent sheet of the Mexican company AztecModels "Dazzling Kings 72-053". A big thank again to the friends in Mexico for the fast delivery directly from the factory! The sheet allows the decoration of not less than 10 (!) different machines from Colombia and Sri Lanka, as well as an F-21 Aggressor from the US Naval Air Station Oceana.

I choose the Colombian / IAI Kfir C-12 - FAC 3041 - Josč Maria Cordova AB, Rionegro, June 2011, with the beautiful tattoo style black Lion (?) on both sides.

The painting was relatively simple with FS 36118 (blue gray) for all tops and FS 25630 (light gray) for the bottoms. After photo comparisons this seemed too dark and was lightened accordingly. All finishes with a mix of Revell Aqua Color and Vallejo Acrylis.

It was a lot of fun to start a small conversion from such an older model.
Gerd Wilcken