F9F-5 Panther "The Blue Tail Fly" (VF-153)
Yes, guys, you're seeing not a two-toned painted Panther from the Korean War period (1950-1953), but a Frankenstein that really flew: The aft section of a Panther and a front section (with wings) of another Panther, that both had suffered severe flak damage to its opposite end, and the carrier repair crew decided to piece the two functional sections together and get an operational jet put back into service.

This composite Panther actually flew 12 missions before being sent to Naval Air Station Atsugi for a rebuild!

I used the commonly available Trumpeter F9F-2 Panther kit. It had all the requisites for a good basic build of an F9F; I just made mine into a finished -5 instead of a -2. What's the difference, you ask? None that can be seen from the outside of the aircraft! Instead, the -5 had about 40% more thrust than the -2, which greatly helped it survive encounters with MiG-15s on missions deep into enemy territory.

My problems with building a replica of the "Blue Tail Fly" was confined to the decals: I'm not aware of a 1/48 kit on the market with the specific decals worn by the jet that flew those 12 missions. I had to dip deep into by bag of collected decals from scrapped kits to come up with the: 1) quantity of individual specific numbers and letters (e.g. 'Navy,' 'H' (unit code letter) and '312'; 2) scale (size) of decals; and 3) color of decals ('Navy' had to be in white lettering', while numbers were in black. For the large unit letter 'H', I cut scaled widths and lengths from white and black decal sheets. From comparison to photos of the specific aircraft, found in Osprey's "F9F Panther Units of The Korean War," by Warren Thompson, I came real darned close!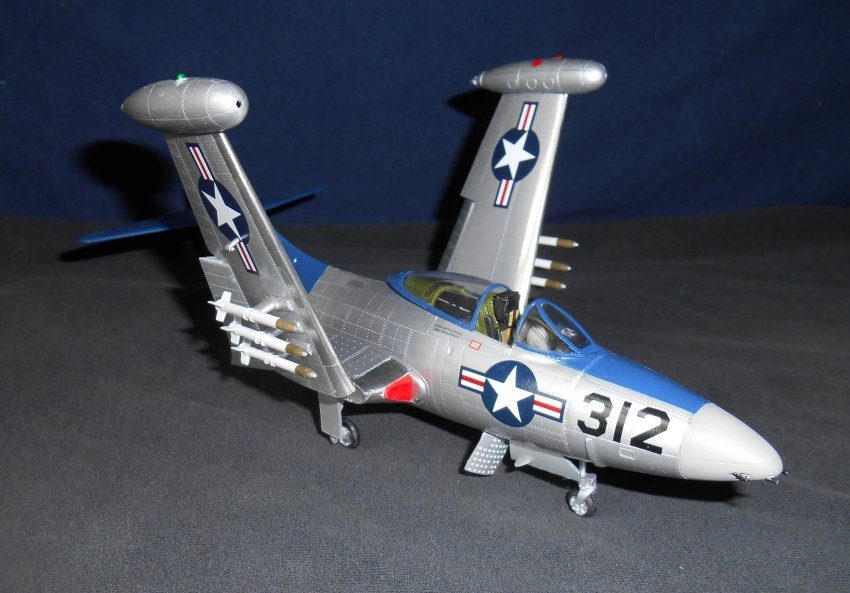 I enhanced the kit parts by the following: I omitted use of the kit's cockpit instrument decals and kept the raised instrument details on the molded parts, highlighting them in white pastel (after painting panels black) as is now my preference; The fabrication of seat belt and harness by using my trusty Tamiya masking tape, cut to scale. I also ordered and used a set of intake covers specially for the F9F, made by Steel Beach. Finally, it seems the wing leading edge piece was kept in a polished aluminum condition, so, even though the Frankenstein plane was worn and cut up to facilitate joining together of usable sections, I figured the rework crew would try to make the resulting jet reflect a normally built one, so I broke out the ultra polished chrome Bare Metal Foil. For ordnance, I always preferred to see rockets used on fighter bomber type aircraft in the Korean War, as the USAF had the bombers that were to carry the majority of bombs.
Carl Jarosz